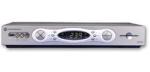 A TechLore "Ask the Experts" Question...
Question:

A red light came on the box and I have no idea what is wrong. I tried calling, but could not get in touch with anyone.
I have 3 TV's and each one has the same thing. I just got the cable installed recently, and on the box it says "message".
-submitted by esvegas