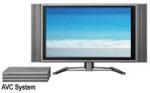 A TechLore "Ask the Experts" Question...
Question:
I bought a Sharp Aquos 32" wide tv because I could take the speakers off and it would then fit into my exising entertainment center. Now that I have the speakers off I don't know exactly what kind of wire I need to extend and reconnect. There are two wires for each speaker.
I tried to find a "kit" on the internet but was not successful. Do I just go to Radio Shack and ask them for speaker wire? Any particular specifications?
Thanks.
Larry
-submitted by Larry
Answer:
Sharp Aquos Models with detachable speakers do not require any special kind of cable to connect them. Actually, any product that uses standard speaker cable (2 wires with bare ends) applies.
Go to your favorite electonics store and grab 16-guage speaker wire that is long enough to meet your needs. Most Sharp models allow the external speakers to be connected either to the back of the display, or to the AVC box that comes with it. Whichever you choose is fine, but make sure you select which one you used in the TV's menu.
Follow up in the discussion page below, and let us know if this worked for you.
Matt Whitlock - Editor, TechLore.com