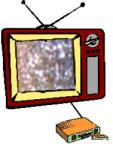 A TechLore "Ask the Experts" Question...
Question:
I have a Symphonic VCR and when I go to put a tape in it is fuzzy. sometime you can she it but it bounced the other tapes are all white snow but when I put the tapes in my friends VCR it works perfect is there anything I can do with out spending money on a new VCR maybe something I can do because I am on a low budget. Please write back asap my kids home school and need the vcr
-submitted by CandiCane0305
Answer:
Since the tapes work in your friends VCR, it looks like your VCR is on it's last leg. It is possible that the heads are dirty and need to be cleaned. You can purchase a VHS cleaning kit for about 10 to 15 bucks at a local Radio Shack. However, if this isn't the problem, it'll be money down the drain since it can't be returned once you've used it.
I understand what it means to be on a budget, but basic VCR prices are low enough for them to be considered disposable devices. A cleaning kit could cost you $15 with no guarantee of success, while a new (albeit cheap) VCR may cost you $30-$50. I'd recommend the new VCR route; worn out VCRs usually continue to have issues until replaced.
Matt Whitlock - Editor, TechLore.com