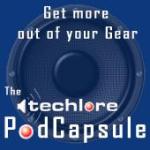 DVRs have made recording TV shows easier than ever, but are you getting the most from your TiVo, replay, or other DVR? Listen to this PodCapsule and learn how to get a phone or internet to your recorder from somewhere else in the home, whether or not your TiVo is spying on you, a way to always see the end of the big game, the inside scoop on upgrading your TiVo with special guest Lou Jacob, an early gadget adopters opinion of Akimbo, and more.
-hosted by Matt Whitlock
Listen to The PodCapsule
To save to your computer:
Right click the download link and select "Save Target As..." or "Save Link As..."