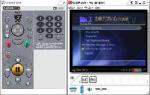 A friend of mine went Sling-crazy, bought like 20 of these things, woke up yesterday feeling generous, and now my TiVo no longer has to be lonely at home while I'm away on business. Yes, my wife occasionally keeps it company, but I think it really likes me best. (Don't tell her.) If I had to guess why, I'd say it's the prolific use of the SciFi channel, but I digress...

You've gotta be asking what I'm talking about, so here it is... Mr. TiVo is sportin' his very own new Slingbox from Sling Media.

This thing rocks! In a matter of minutes, I had it hooked up and was not only watching recorded TV but controlling my box from my laptop on the couch over the wireless LAN. And I've been shocked at just how good the quality is watching it over the net away from home (tested it tonight when I should have been paying attention at a meeting). Obviously, it's not HDMI quality on my big screen TV, but we're streaming television to anywhere here. I think I can handle a bit of a compromise on the quality side of things.

And something else of interest... The official Slingbox community is built on the same technology as TechLore (you may have seen their blog entry about that a couple months back). So, if you like hittin' up your virtual friends and neighbors for info on your/their latest cell phone, TV or car gadget purchase here, you'll love talking Slingbox at the Sling Community.

But now that I've sounded way more like an infomercial than originally intended, I'll sign off with one last thought... You have GOT to check this thing out!