There has been a large amount of chatter on Techlore about Sony convergence ic problems. Luckily Most Sony projection tv's no matter what model you have should be similar to my explanation below, Since Sony rarely fully re-engineers a tv what I am about to say will apply to most Sony projection TV's. A service manual is generally not needed to perform the repair.
WARNING! If you don't have any electronic experience this is not for you, I assume no liability for any harm that may come to you or your tv. Perform this procedure totally at your own risk. High Voltages exist in your tv and on the boards I am going to talk about, and can have high voltages on them even after the tv is unplugged.
What has happened to your tv:
What has normally happened is that the convergence output driver ic's either one or both of them has shorted. Causing your picture to be un-converged, The Symptom of your failure can take on many different looks, so one explanation of what the failure looks like will not be adequate. It will be basically one or more (red,Green,Blue) crt's are not aligned correctly, and colored shifted, and distorted picture of some kind will be seen. Auto focus will not fixit and may even make it worse. When these ic's short, they can cause one or more pico fuse to blow. Allot of people ignore this part of the repair and get themselves into trouble. Please listen to my warning, and make sure you check these fuses!
About the boards:
The two boards we will be working with are the "D" and "G" boards. They will have a big "D" or "G" stamped into them. On most models the "D" board will be to the center left of you when looking from the back. The "G" board will usually be to the left of the "D" board and standing vertically. When removing the board make a mental note of where all the plugs go. The Flyback (the big gray transformer near the back) has a fat red wire coming out of it. To remove this wire push down and twist on the distribution block side. Don't try to remove it from the flyback side, you can damage the flyback. There is a focus wire going upto the focus block as well, pull the wire straight out of the focus block side. But if you have enough room to work behind your television you can leave the red and focus wires in the tv, just flip the board over at the television after removal.
The Parts:
The parts you will need are two ic's that are referred to as STK ic's. This is in reference to the first three letters of the part number. You will also need some pico fuses. The pico fuses are little yellow fuses that look like resistors. When they blow, they will show no physical sign of failure. The amperage rating will be printed on the fuse. For example a 5 amp fuse will have the number 5000 on it. A 3.15 amp fuse will have the number 3150 on it. You will need to use an ohm meter to test these fuses.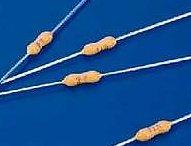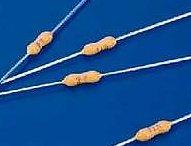 If your set uses either STK392-110, or STK392-120, you should replace them with a higher wattage part; either the STK392-150 or STK392-180. Since this is a very prolific problem, there are allot of companies that make cheap bad ic's that can be purchased usually for around $6.00 - These replacement ic's are BAD, they will FAIL on you again. I have had allot of experience with this problem, please listen to my warning! Only get a set that is from a reputable manufacturer. If your ic part number is something other than the ones I mentioned above, ONLY use the EXACT same part number for replacement. The part number is boldly printed on the part.
The Location of the parts;
The stk ic's are on the "D" board, attached to large heat sinks, When looking from the back you can see the heat sinks but the part's themselves will be pointing away from you and hard to see without removing the board, or using a mirror to look at the part numbers. The fuses are generally located under the fins of the heat sinks. There are several of them and vary by model. On the "G" board there will be two yellow pico fuses near the connector going to "D" board. These fuses provide power to the stk ic's you must check these as well.
The Repair:
When replacing the STKs make sure you use heat sink compound on the back of the ic's before installing them. Also as a rule of thumb, screw or clamp the ic's down to their heat sinks before you solder the pins. Replace any blown pico fuses and re- install your boards. When you turn your set on it may still be out of convergence due to many factors. Try pressing the auto focus button on front of your set. If this does not work, you will need to do a convergence. Please see my article "Sony Convergence Procedure" to complete this part.
Possible Problems after the repair;
Many things can happen during your repair, the most common problem and one that even I - an experienced tech still have problems with are not plugging in all the wires. This will cause various strange problems. So if the set acts differently than It did before. First suspect that you have missed a wire. Don't assume that you got all the wires in. it is extremely easy to miss one. I have had people and techs tell me "I am sure I plugged in all the wires" but when I investigate a little further we find that wire that was hidden behind something else and once we plug it, all will be well. Another issue you need to be aware of is if you are in convergence mode and you cannot move one of the colors in either vertical or horizontal directions. Re-check you pico fuses and solder. 99% of these problems are due to either shorted pins or a missed pico fuse.
More Advice?
If you have more questions about this repair, start a conversation on this board and I will help you with your question. Please include the model number of the set so my responses can be specific.