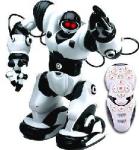 Japan is years ahead of the U.S. in personalized robots in their homes.
It seems that Japan has a thing for robots. Dozens of companies make and sell these humanoid machines.
This has lead to the creation of the first robot hospital in Osaka. The Akazawa Roboclinic The hospital was launched by machinery maker Systec Akazawa.
They offer diagnosis and treatment for down-and-out droids. They have all the proper signs for their different departments, including examination, operating and rehabilitation rooms.
They only have a staff of four, But everyone including the hospital chief Dr. Ohno, are decked out in white lab coats.