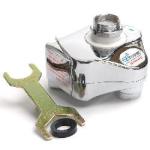 Well how about this EZ Faucet? It transforms your usual contact sink into a perfectly clean wash. It has an infrared sensor that senses your hands or whatever crosses it's "viewing" path and turns on the water. Just like in the airport faucets. I actually read the manual of this thing and it sais you can adjust the temperature and pressure of the water so we're all set. In about 5 minutes with a not so fancy wrench included in the package.
Only 70$ at smarthome. If it really works you can call yourself a washing hi-tech freak.
I just imagine a curious pet that has a really crazy surprise walking by the sink.