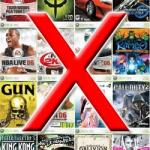 Question:
I have an XBOX 360, and would only like to use it to play HD-DVD on my TV. I would like to diable the game controllers completely and not be able to play any games. Any ideas?
-submitted by Martyb
Answer:
To answer your question in one sentence, shy of hiding the XBOX 360 controllers entirely, there is no way to render the 360 incapable of playing games. That really is what the 360 was designed to do, afterall.
I thought about opening up the XBOX 360 and disconnecting the internal DVD drive from the main board. However, getting the 360 open is not an easy task, but it could be done. The problem though, is that this will void your warranty, and there's a chance the 360 will not boot if the drive is disconnected.