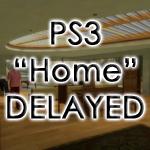 Bad news for PS3 owners...
Looking forward to setting up your new digital digs in the upcoming "Virtual Home" world coming to the Playstation Network? Well real-estate still isn't for sale, and it won't be for a while.
In another embarrassing blow for Sony, the much touted "Virtual Home" has been delayed until Spring 2008 according to Kazuo Hirai's keynote address at the Tokyo Game Show today. What a way to kick off your first major public appearance as the new chief executive of Sony Computer Entertainment... by announcing a delay.