Greetings,
As many of you have seen, the TechLore Community has undergone several updates and improvements over the last few months. As we continue to evolve this innovative and original approach to our community software platform, we hope you find many of the changes and enhancements enjoyable and useful.
I would also like to say that as we continue to try new ideas, we really value feedback from you, our users. Not all of the changes we've made over the last year have made people do cartwheels and backflips out of pure joy, but we always have our ears perked up to hear your thoughts and make this community work exactly how you want. The vast majority of changes I'll talk about below are inspired by the feedback we've gotten, so please keep those suggestions and calls for improvements coming.
So without further adieu, let's get to the updates! This time it's all about the forums and comments, and I (personally) think you'll all love what's new.
Single Thread, Single Topic
First the biggest change of all... After much feedback, the concept of multi-dimensional forum threads is going away, meaning that threads will no longer be multi-tagged to forum topics. You won't see the same thread in Camcorders as you do in Cell Phones. The concept was neat, but hard to execute and confusing while keeping a traditional forum presentation.
So, you now have a regular forum type system that should feel familiar and simple. As this is a major change for how this site has operated in the past, the fourm topics themselves may get a refresh in the near future to make less overlap between topics.
Threads that are currently multi-tagged will remain so, but moderators here will retag popular threads. Over time, all posts will be in one topic only.
An easier way to post comments... and a bit more love for Safari users.
It's no secret that even I have a love/hate relationship with the TinyMCE WYSIWYG editing control. It's a bit complicated, but when trying to add photos, links, and videos to your post, can be quite invaluable. However, for basic comments, it's a bit overkill... even the simplified version of it.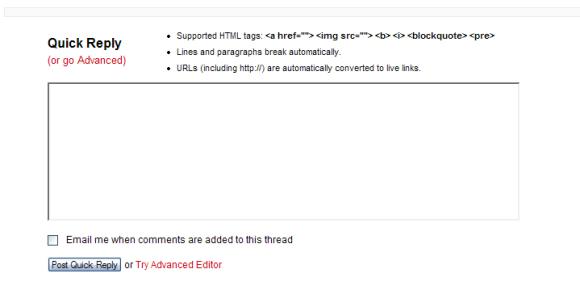 So welcome the Quick Reply system, a quick and easy way to make a simple comment. When posting a comment to any existing item, you'll be first presented with the Quick Reply box, a basic text box without the WYSIWYG controls. It loads fast and works well. If you want to do a bit more with your post (add photos, videos, etc.), then you can click the "Go Advanced" link that will bring back the heavy-duty controls.
The basic box will also recognize line breaks, http links, and even supports a few simple html tags so you don't have to use the big editor to make something bold. This will be welcome news to Safari users, who haven't been offered good way to post. As much as it hurts to say, the WYSIWYG control is still not Safari friendly, but at least we're taking a step forward to a positive experience on all browsers. More is planned to make TechLore completely Safari friendly as soon as possible.
Creating a new thread should still give you the advanced editing tool if you are running IE, Firefox, or Opera. Quick Reply is only applicable to comments.
Other forum improvements
Now that the biggies are out of the way, you'll also fine a ton of other little upgrades as you poke around the forums.
1. New forum icons should help you find new posts, posts you've commented in, and much more. Check out the key at the bottom of the thread list to learn what all the icons represent.
2. The option to make the entire forum or forum topic marked as read.
3. Custom comment colors: Posts you make will appear as green to you, and posts the original thread poster (the author) makes will appear yellow. This should make it easier to follow conversations and find where you posted.
4. Avatar... incentive. C'mon people, let's get those avatars up! Those who have not loaded a profile photo or avatar will see a new basic avatar better indicating that they should update their profiles. Using photos and avatars makes the community a much more fun place.
5. Tighter feel for thread lists, plus page jumps by the thread title for long threads.
6. New forum jump dropdown box makes it easy to hop from one topic to another (it's awesome).
7. Previous thread and next thread links make it easy to go forward or back one thread (NOTE: hitting an older multi-tagged thread will prevent these from appearing. This will correct itself over time).
There's more, but we'll let you discover the rest on your own.
If you have any comments, suggestion, or feedback regarding these recent enhancements, please feel free to drop me a line here in the comments area below.
See photos of some of these enhancements