Learn the truth behind LCD technology and image persistence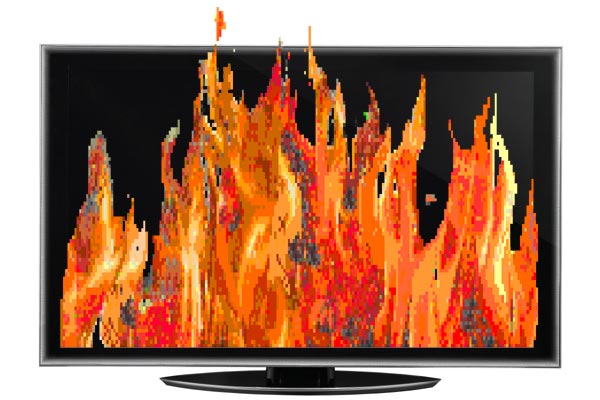 What Is Burn In?
Burn in is one of the most commonly misunderstood concepts in regards to modern television displays. "Burn in" is a phenomenon associated to television products, in which a static image left on the screen, over time, can permanently wear itself into the display. This issue is generally associated to phosphor based television displays like tubes, CRT rear projection, and plasma displays.
A common question asked is if alternate, non phosphor based television products, such as LCD and DLP televisions, are susceptible to burn in. The most common answer given to this question is no, LCD amd DLP televisions are immune to burn in.
It's generally accepted that DLP TVs are generally immune to burn in. For LCDs, however, immunity is somewhat of a half-truth.
The Truth About LCD and Burn In
It is a fact that LCD displays are immune to phosphor wear, simply because LCD televisions do not use phosphor to create a television image. Otherwise, it would be like saying an electric car can run out of gas. That does not mean LCD displays are immune to the effects of static images. On LCD displays, this is kindly referred to as "video memory" or "image retention."
LCD panels use a complicated process of organizing liquid crystal molecules into a twisted or untwisted state, which allows polarized light to pass through the liquid crystal substrate. Over time, it is possible these liquid crystals can "get used to" the state of twist they are in, causing a static image, very similar to phosphor burn-in, to be visible on the screen permanently.
[[ad]]
Some say that simply turning off the display for 24-48 hours eliminates this effect, while others have claimed the effect is permanent in extreme cases. Nonetheless, home users of LCD televisions have generally little to fear.
Why Video Memory Is Little Concern To LCD TVs
The nature of LCD products makes them extremely resilient to building up a video memory. In fact, you're far more likely to see this issue on LCD computer monitors. If, for example, the Windows or Macintosh desktop was left uninterrupted on a LCD display, with no screen saver for an extremely long period of time, image persistence could become an issue and (possibly) be permanent.
LCD televisions, on the other hand, typically get enough image movement or power cycles that the buildup of video memory is highly unlikely, although not impossible for those who love channels like CNN. Leaving static images on an LCD display for a relatively short period of time will have no damaging effect to the display.
In other words, you'll only get video memory buildup on an LCD television if you either try to do it on purpose or step well outside the norm when viewing static images.
What's outside the norm? Viewing a large amount of 4:3 programming on a widescreen display with static bars on the side can, as community members have pointed out in the comments area below, increase your risk of video memory or image persistence... even on LCD displays. While I still don't find it 'likely' that this commonly occurs, it's always prudent to limit viewing of static images whenever possible, so do yourself a favor and take advantage of the various formatting modes your television provides.
In recent times, TVs are shipping with a vast number of smart features to do things like playback media from a NAS device or stream content from the web. These displays spend a much greater period of time in menus with static elements than the TVs of yore; the likelyhook of seeing issues with image retention on LCD TVs are increasing. Smart TV owners need to be increasingly cautious regarding how long static images (like a TVs audio player) remain on the screen.
Better To Be Safe Than Sorry
There isn't a huge need for the typical television watcher to concern themselves with video memory and image persistence on LCD televisions; it's not likely under normal viewing conditions. Still, it never hurts to be safe than sorry. Follow these tips to ensure a video-memory-free experience with your LCD TV:
Limit your viewing of 4:3 material on widescreen TV with static bars. Use the formatting modes on your TV to reformat 4:3 material to fit the 16:9 screen. Also, don't watch 1000 2.35:1 ratio DVD or Blu-Ray movies in a row.
Be careful of channels that maintain a static, never moving, logo somewhere on the screen.
Be careful when playing video games that contain a static graphics, like a life meter or HUD. Make sure you vary your gaming or watch other things between gaming sessions.
Be careful of channels with stock tickers and other non-moving images
Be cautious of media features and menus in smart TVs.
[Updated from original version; re-phrased to make it clear that while video memory is unlikely, it's not impossible. Thanks to WA6ATI for his comments.]
[Rewritten on May 6th, 2011. Originally published on December 14, 2004 at 9:13 AM]