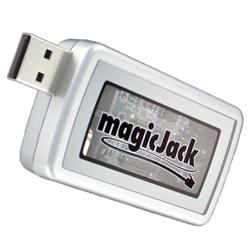 There is a new device being advertised all over the US right now called "the Magic Jack," a private voice over IP (VoIP) solution allowing you to use a high-speed Internet connection to make and receive calls instead of traditional land-line service.
It said in their TV ads there was a nominal fee of $39.95 to purchase the Magic Jack, which included a $9.95 fee for the first year of service. After the first year it would cost me an additional $9.95 per year, and there's a five year special available for $59.95. After paying AT&T a little over 65 bucks per month for my local and long distance service, that sounded GREAT! I just had to check this out! So I ordered one, and 5 days later it showed up in my mailbox.
Setting up the Magic Jack was pretty straightforward. Simply plug it into an open USB Port, then plug a telephone into the port on the Magic Jack. I gave it a few minutes to load the setup, and during the process was given the option to designate my home state. A list of available area codes appeared, and after selecting one, as given a telephone number. With the setup finished, it worked like any traditional phone, I can receive and make as many calls as I want to anywhere in the US and Canada via Magic Jack... for free (well almost free, $9.95 per year).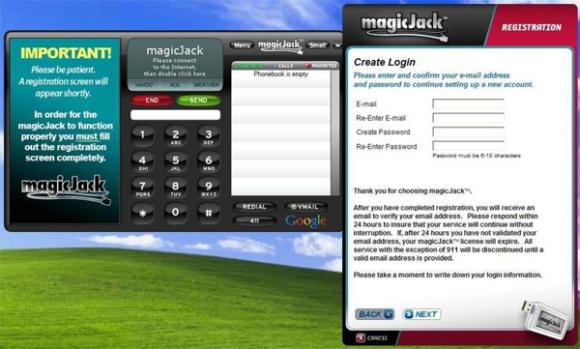 Sounds too good to be true doesn't it? From my experience, it was.
I was disappointed from the start. The list of area codes were all long distance from my home, which meant anyone calling me from a local line would have to pay long distance or toll charges to call me on my new Magic Jack number, relegating Magic Jack to second line and not a replacement for my first. I didn't worry too much about that since it's a cheap price to pay for a second number.
Unfortunately, the actual voice quality is about in line with its low price. After calling my in-laws in Texas and my sisters in Florida, everything said had to be repeated more than once. It seemed worse than a cheap analog cell phone too far away from a cell tower.
Perhaps I was doing something wrong, so I looked for a technical number to call... and failed. They don't offer telephone support. However, they do offer online support. That's okay with me actually, I don't mind online support if it's good.
I chatted with the first gal for over forty-five minutes, performing a series of modem resets, updates, etc. We accomplished little, and I continued to experience the same problems.
She then connected me to a 'senior' troubleshooting technician, and we went though another hour of changing several settings on my computer, as well as going trough all the same things the first tech suggested. I was told I might have a bad modem. Now, I happened to have a few extra gateways, routers, and DSL modems lying around. I swapped out the modem, and experienced the same poor audio I had before.
I reconnected with thier online support, and politely told the technician I was very unhappy with the Magic Jack and wanted to return it for a refund. Their suggestion: maybe I had a problem with the DSL I have. It was worth investigating anyway. So, I called AT&T and had it checked out. Everything was perfect; my DSL was running up to speed.
I then contacted the online support agents... again, and proceeded to request a refund. I was given a return authorization number and shipped it back to them. I received a full refund on my charge card within three days.
In conclusion, I was very disappointed at the lack of available area codes and the poor audio quality the Magic Jack. In my opinion, the Magic Jack is a great idea, but they have several issues to work out before it's worth anyone's time or money.