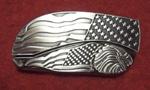 Not every gadget is electronic.
When you are a guy, you know that when it's time to "Whip it out" speed is of the essence. No one want to be too late in getting it out!
Now it looks like we have a new addition to our Christmas list, sorry if it's not what you thought it was.
They promote it as the best knife you'll ever have, but I just think it's cool!
You can find it here, and no, we do not have any affiliation with them and are not making anything from promoting it.
But it looks pretty nice. Here is what they say:
Five Cool Things About This Knife
Accessible without reaching for it.
Accessible without unnatural motion.
Out and open in an indetectable manner
Out and open with one handed operation
Accessible even when sitting down
(bonus) accessible even when wearing chaps
Out, done, and back in less time than you could get to your pocket knife or any other knife. Can you think of a situation where this would be handy,or essential.
Number 6 is pretty funny, not many wear chaps anymore.
Check out the video. The trailer and the dog barking are just a bonus.
But, this one is going on the Christmas list. Hopefully the quality is good, I am very particular about quality of knives. If the quality is not there, it will definitely be returned.