What question? What are you talking about?
The Apple iPhone was released on June 29th, amid a flurry of press coverage, hype, and strong opinions. Long time TechLore member and super gadget geek Steven Jones frothed at the mouth, and published a three-part Ode to the iPhone in the process. Read his rants at:
Eric Brandt, a newer member, harshly countered Steven's iPhone fervor with a list of questions, which I've broken out into the forums. This is question #9. I wanna hear what you think.
Eric's Question
Aren't there implications of not having a removable battery?
He writes...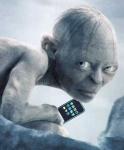 What happens on a trip, or when you are in a hurry, or when you have a long day with lots of calling? Does it mean that your charger now comes standard, inside your briefcase? At least until you have charged the iPhone 300 or 400 times and that battery dies. What are you planning to do then – live without the phone while it makes a trip to the factory, or do what Apple expects…. Buy their next magic device?
What's your answer?
Okay, Techlore people... I want to know what you think! What's your answer?