What question? What are you talking about?
The Apple iPhone was released on June 29th, amid a flurry of press coverage, hype, and strong opinions. Long time TechLore member and super gadget geek Steven Jones frothed at the mouth, and published a three-part Ode to the iPhone in the process. Read his rants at:
Eric Brandt, a newer member, harshly countered Steven's iPhone fervor with a list of questions, which I've broken out into the forums. This is question #8. I wanna hear what you think.
Eric's Question
You can't download songs from iTunes to your iPhone?
He writes...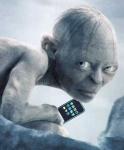 Why can't you hear and buy new music directly -- the way I can download from Yahoo Music Unlimited onto my Sansa Connect?

Isn't syncing music completely out-dated?

And what about the iPhone not having a removable storage card – isn't that standard on every device you already have?
What's your answer?
Okay, Techlore people... I want to know what you think! What's your answer?