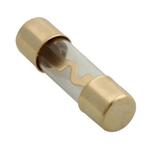 First off we need to understand what a fuse is. A fuse is a safety device, primarily designed to protect something from fire or damage. A normal fuse is simply a small wire running from one electrode to another electrode and encapsulated in some kind of fire proof casing.

A fuse should not be confused with a circuit breaker. A circuit breaker has the same purpose as a fuse, but it can be re-set and used again. A fuse has to be replaced when it blows.
Fuses, especially ones found in a television, can be very deceiving and hard to find. They come in many shapes and sizes. Other components like; resistors, or coils, may also do double duty and act like a fuse. This behavior is engineered into the component.
A fuse under normal conditions will allow the free flow of electricity to the circuit it is feeding. Normally, if everything is working correctly, the fuse has absolutely no effect on the circuit. If the circuit that the fuse is feeding draws too much current, the fuse wire will get very hot, very fast, causing the wire to disintegrate or burn open in one spot. Once that wire has been broken, no electricity can pass through to the circuit beyond.
It is extremely rare that a fuse will blow without another problem causing it to blow. After all, that is its purpose. It is designed to blow if something else is wrong, especially in a TV or other appliance. If a fuse is blown in a TV, expect that you will need to fix it.
Most of us are used to dealing with fuses, or breakers, in our house. By replacing the fuse, we usually make it all better again. But when you think about it, the fuse only blew because you had the bathroom heater turned on at the same time you had the blow dryer turned on. So you overloaded the circuit. Again, you had to fix something to keep the fuse from blowing, like turning off the heater while you were blow-drying your hair. Replacing the fuse did not fix the problem. Turning off the heater fixed the problem. The fuse was a symptom of the problem. Inside the television you have no control over how much power is being used. So the reason that fuse blew is inside the TV it's self.

Power surges from lightning or power line transmission problems can cause a fuse to blow. The abnormal voltage and current flows in this situation will usually do more damage to the TV, but in some rare cases the fuse is all that has blown. If an internal fuse has blown, it always has to do with a problem in the television.

When you replace the fuse, use the same amperage, because increasing the amperage does not help, it just allows the circuit more current, possibly causing a fire. If the circuit keeps blowing a fuse, you have a problem that needs to be addressed and resolved. Don't mask a problem by trying a higher amperage fuse. This will only make your problem worse.