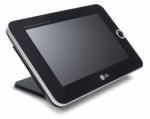 While on a family vacation to Disney World recently, I realized how bad the battery in my laptop had gotten—it would only work for about an hour of DVD watching, so I explored some portable power options. I found a few, but none that added more than a half hour to a laptop's battery time. Discouraged, I said "WTH" and looked at portable DVD players. I found a unique one listed on Circuit City's web site, so I had to get it - the LG DP889 "Portable DVD Player & Digital Photo Frame" (8" widescreen; $229, but I saved some with a 10% coupon). Instead of a lengthy discussion, a list of positives and negatives would be better:
POSITIVES
Can view photos.
Has a USB port; you can connect flash drives to view photos and listen to music. The manual is not accurate, as it states that a direct camera connection is not supported—it worked well with the two digital cameras I tried.
Has a media card slot.
Plays MP3s. I copied a bunch to an SD card for my future trips.
256MB onboard memory (used to copy music and pictures from USB or media card).
A/V inputs—yes, that's right—inputs.
Store a few pictures in the internal memory, set it to slide show, and you have a nice digital photo frame. It is not set up like most portable DVD players, where the screen is on the top and the DVD player is on the bottom; this one has the DVD player behind the screen. The thing that folds in this player is just a tiltable stand
Two headphone jacks.
Full, clean sound with serious volume.
NEGATIVES
Not as efficient as a real MP3 player; will read MP3 tags, but will not index songs and artists by them, so grouping songs into folders is the only way to organize them. I also had to go through and strip out any artist names in file names, as they made song titles virtually impossible to read after being truncated.
No Title button on the unit itself. If both music and pictures are found on the same media, it tabs Photos and Music. Not a big deal, except that to switch to the other [Music] tab, you have to use the Title button, which exists only on the remote. Another problem with this is that album art is normally hidden in Windows, but the LG still finds it as pictures, so the Title button is once again needed. I went through and removed all of the hidden album art so the player would only see music files.
Battery will not charge if player is being used.
Fingerprints are a constant problem.
Overall, I'm very pleased with this player. There are plenty of other options out there (bigger screens; longer battery life), but most of them only play movies. This one lets me also listen to music and view pictures...being able to connect my dSLR directly to it and view its photos is quite handy. And lastly, the A/V input capability—imagine being stuck in an airport, but having this player and a game console.
The bottom line—I highly recommend this one to anyone looking for a portable DVD player. This is much more portable (and practical) than lugging a laptop around just to watch movies.