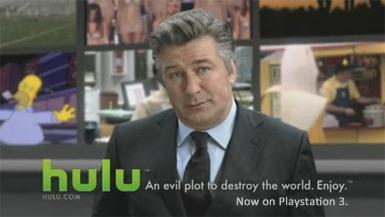 Whereas Netflix Instant Watch exclusively graced the XBOX 360 for some time, Playstation 3 owners are getting the last laugh now that Hulu's giving them exclusive access to Hulu Plus streaming for the remainder of the year. That dramatically turns the tides, making the Sony's PS3 the most streaming friendly console in the market with access to both Netflix and Hulu Plus.
Anyone with an iPad or iPhone has probably heard about Hulu Plus by now, but if not, let's bring you up to speed. Hulu Plus is a new subscription service from Hulu, a popular video streaming site owned by NBC, Fox, and ABC that's been coughing up free TV content to computer screens (in the USA) for quite a while. Hulu Plus promises a whole lot more of the Hulu goodness you've become accustomed too, like a vastly expanded TV library of full series, advanced search, and HD quality, but with a $10 per month price tag. It also unshackles you from your computer monitor, allowing you to stream to the iPad, iPhone, and now the Playstation 3.
While many of you no doubt want to run to the Playstation Store and download the Hulu app, I'd advise you to wait a little while. Sony is leaning on the Hulu Plus frenzy to sell people on their recently announced "Playstation Plus" subscription service. Basically, if you want guaranteed access to Hulu Plus during this so-called "introductory preview period," you need to shell out an extra fifty bucks on a Playstation Plus subscription. Without it, you have to request an invite and hope you get picked. I wouldn't hold your breath though. My guess is that you won't, and everyone will be let in as soon as Sony satisfies whatever goal they set for new Playstation Plus subscriptions.
So does Hulu Plus PS3 equal TV bliss? (See what I did there?). Well, almost.
[[break]]
On the plus side (pun intended), the Hulu Plus interface on PS3 is slick, fluid, and dynamic. Finding content is relatively simple thanks to powerful search features, queues, etc. From a content perspective, you'll find a pretty massive catalog of full-length content to watch, including full series of TV shows and some of movies, with many in HD quality. There are clips too, for those into that sort of thing.
Where there's good there's bad, of course, with Hulu Plus being no different. First, like the Hulu website, Hulu Plus is for USA eyeballs only. Also, despite the monthly price tag, advertising is still very much a part of the Hulu experience. Expect to see commercial interruptions, often showing you the same ad over and over and over again. It's also bad that there's no automatic quality setting. On one hand, being able to manually select one of four quality levels (two HD and two SD) means you have some control over how much bandwidth you use, but on the bad side means if you think your connection is really faster than it is, you'll freeze and skip a lot until you manually change it. Finally, don't expect a flawless experience for the time being. Hulu Plus is new, and along with that comes reports of wacky, erratic behavior like getting stuck in endless ad loops and random freezing.
Here's a tour from the guys over at Joystiq:
Does Hulu mean you can escape from cable or satellite entirely? Probably not. At $10 a month Hulu Plus looks dramatically cheaper on paper than your typical cable or satellite plan, but it's not a direct replacement. For example, if you care about live events, sports, weather, or any number of interest specific cable channels, you won't find that stuff on Hulu - at least not yet anyway. That said, I could very well see folks shave thirty bucks a month from their cable plan and reinvest 10 of it in Hulu Plus.
Have you tried Hulu Plus on the PS3, iPhone, or iPad? Tell me what you think of it below.