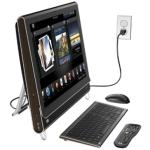 Yesterday, HP Announced the successor to the TouchSmart, a touch friendly, kitchen computer released well over a year ago. Boasting an attractive (albeit slightly odd) design and touch capable widescreen LCD monitor, the quasi all-in-one TouchSmart turned out to be great seller for HP.
While I have always given iMac props in the all-in-one looks department, HP may just have a cooler looking, sleeker design (only 2.6 inches thick!) with the TouchSmart 2... but your opinion may vary. Not only do I think it looks nicer than the iMac, but it continues to offer the unique, kitchen and family friendly touch screen interface.
At 22" you'll need a fairly large size kitchen to put it in, but the innards have been improved enough to warrant placement in any area of the home. Under the hood of both different models in the new lineup, you'll find a 2.16GHz Intel Core 2 Duo T5850 processor, DVD burner, built-in webcam, 500GB hard drive, 256MB NVIDIA GeForce 9300M HD graphics card, and 802.11n Wi-Fi adapter... enough PC for most folks at any level. The only difference between the two trims is the inclusion of a TV tuner, which you may or may not need.
The downs? I would have liked to see a model offered with a Blu-Ray drive, and the omission of single layer DVD+R support seems a bit strange (according to the press release, the one included doesn't support it for some reason).
However at $1299 and $1499, depending on the model, it's a bit hard to complain.
Expect them to hit stores July 13th.