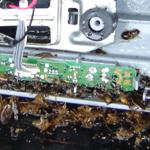 My first story is about a 30" lcd television only about 1 year old. The customer called the shop and requested a service call. He said that the tv was dead. Our tech went out to the house and decided to bring it into the shop, as he un-hooked the tv from the wall a black outline of the tv could be seen. The outline was made up of cockroaches; they immediately scurried away in all directions, dissolving the black square. The tech was shocked to see so many in one place. We have seen the effects of cockroaches in televisions before but this tv was categorically the worst infestation we ever saw. The set was brought back to the shop and was never allowed to enter the back door. We placed it on a bench and removed the back, and an ghastly black cockroach mess was uncovered. Most of them still alive!. The techs sprayed bug killer in the television, it was a futile attempt to prevent the spread of these creatures. The spray did kill most of the bugs but I had another
dilemma how do I fix this tv. No one would go near the television, since I was the senior tech it was left to me to take care of this. I went to the hardware store and purchased some rubber gloves and a mask to help stop the fumes from the bug spray. I could not scrape them out because of the plastic bracing creating small cavities. My only option was to blow them out with an air compressor. As I did this, toxic film balls of cockroach parts and bug spray spit out everywhere. After about two hours I found my culprit, a cockroach stepped across a high voltage circuit powering the back lights and arched through him causing the unit to fail. After finally getting the cockroach mess cleaned up, I let the tv set for a day to let the bug spray dissipate. The next day I found 8 more live cockroaches crawling out between the lamp and the lcd screen, this is a very small space that you could hardly get a flat screwdriver through. I then began to separate the backlight from the lcd panel and found that between the bug droppings and the bug spray the diffusion sheet and other plastic optical pieces were damaged beyond repair. The set was a total loss.
The house that this television came out of according to the tech was fairly clean looking. You would expect a house where the tenants were absolute slobs but that was not the case. I believe they had to know they had a cockroach problem, they sure do now. Here is the moral of this horror story, before you buy that $3000.00 tv, and you suspect your house has been infected with roaches – call an exterminator, Or it will cost you allot more in the end.