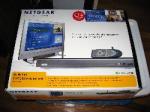 Ever wish you could show a digital photo slideshow on your 60" plasma display instead of your 14" laptop? How about watch your favorite YouTube videos without having to boot up your PC? Oh, and before I forget, how about if it actually worked as promised out of the box, instead of requiring you to figure out a whole lot of new technology mumbo jumbo?
If that sounds good to you, read my NETGEAR EVA8000 review. It includes some pictures and over 20 minutes of video.
Ok, it's not technically exclusive, but it is first!