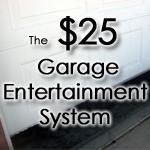 At the end of part 2, I had just finished hunting down and grabbing the major pieces for the $25 Garage Entertainment System. With a few twists here and there, including the addition of a dedicated Media PC for the garage thanks to a "free" find at a yard sale, the $25 Garage Entertainement System was finally starting to come together. If you haven't yet read parts 1 or 2, go check that out before you continue:
Part 1: http://www.techlore.com/blog/entry/19541/Crazy-Tech-Project--The--25-Garage-E...
Part 2: http://www.techlore.com/blog/entry/19580/Crazy-Tech-Project--The--25-Garage-E...
After tacking on a few of the extra things I needed (like a mouse, keyboard, and some cables), was I within budget? Let's see:
Reciever (garage sale) - $7
Speakers (garage sale) - $8
Media Computer (sidewalk) - Free
Monitor (garage sale) - $1
AM/FM Tuner (garage sale) - $2
Terk Powered Antenna (garage sale) - $.50
Belkin Wireless Network Card (friend) - Free
25 ft. Speaker wire (garage sale) - $2
Mouse (already had a cheap one) - $1
Keyboard (garage sale) - $1
Cables (have plenty of cheapies that came with stuff) - $0
Total - $22.50
With everthing said and done, I'm actually less than my original budget of $25.00 by $2.50. Maybe I should use it to celebrate by taking myself out for some Wendy's... provided I stick to the $1 menu.
Setting it Up
The free media computer was an addition I didn't plan on, but was fun to see what I could do with the box I picked up. It turned out to be a HP Vectra VL with a 266MHz Pentium II processor (hardly a speed demon) a 2GB hard drive, integrated video (4MB VRAM), and 64MB of RAM. It was pretty slow on boot up, partly due to the outrageous amount of viruses and spyware it had on it, but also because 64MB of RAM wasn't all that much. The first thing I did was dig through my spare PC parts bin (I've got tons of old PC parts), and slapped some more RAM to bring the total up to 192MB. That helped somewhat, but it's still rather pokey. I also installed the Belkin Wireless Card I picked up from my buddy.
After a good deal of PC cleanup and a few updates from Microsoft, I got it into a working state. Still quite slow, but usable for my purpose. I typically would have opted for a lightweight distro of Linux over keeping Windows 2000 installed (I tested a Knoppix live CD and the computer was much peppier), but I had a curiousity up my sleeve that might pay off by leaving Windows 2000 as the OS.
The rest of the setup went smoothly. The receiver, speakers, antenna, and tuner all went together famously. I didn't need the 1/8" to stereo cable since I wouldn't need to hookup a portable player, and the Media PC serves as the source for CD playback as well as MP3/WMA. I still have an extra input on the receiver should I want to add something else down the road.
I did have to move the speakers up one shelf thanks to the unexpected inclusion of a monitor, but I don't feel I broke the one shelf rule since I didn't need to move anything off the shelf above to fit them in. I'd say it's more like "bending" the rules... not breaking them. :-)
The Result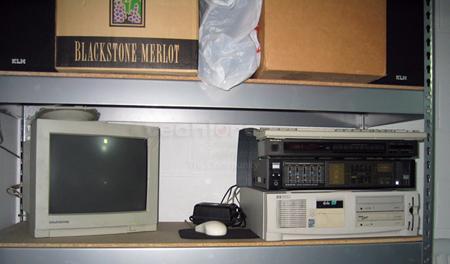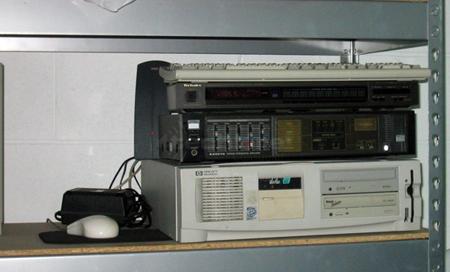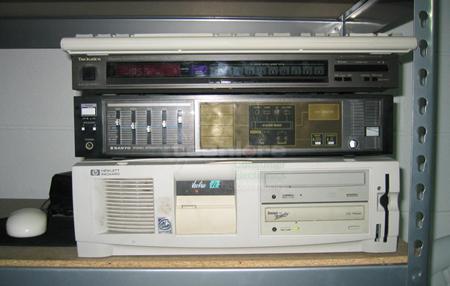 What Can I Do With It?
It may not be the most pretty sight, but it does just about everything. When I want to listen to a CD, I fire up the media PC, drop a CD into the tray, and hit play. With the wireless network card (and considering it's Windows), it seemlessly connects to my media share on my home server and serves up all my media files... even video! I'm not super thrilled that Windows Media 9 is the best I can get, so I've installed a variety of free media packages, like WinAMP, to fill the void. However, WM9 feels a little quicker, and does stream just fine from the server.
Radio with the powered antenna works fairly well, but doesn't receive all my favorite stations. Luckily, some of those I don't receive have web feeds that I download through the Internet. PLUS, I've got all those other Internet radio stations. Not too shabby.
It doesn't have a DVD drive, and unless I get one free somewhere won't be able to playback movies directly from disc through the media PC. Of course, I can always rip them into compressed formats and stream them, so it can be done.
Did I also mention that since the Media PC is connected to my home network it's fully Internet connected? I can check e-mail and surf any website thanks to the wireless network card and Firefox. Even in the garage I'm only a click away from TechLore and Google!
Why Windows 2000?
Well, I own a Slingbox, which is a device that lets you watch and conrol your home TV sources on most computers and many different mobile phones. The problem is, this computer is far, far below SlingPlayer's minimum requirements (1 GHZ proc, 256MB RAM, etc). So, I decided to run another experiment... can SlingPlayer run on this ancient hardware? Can I also watch TV on the G.E.S.? The results of that experiement will be posted at the SlingCommunity website soon. Stay tuned...
Wrapping it up
It's a project that took a lot of time, but turned out to be a great success. I managed to go above and beyond my original project requirements, all for less than $25. Now get out there and build your own budget G.E.S., and tell your friends they too can build their own with a little help from the TechLore Community!
Post a comment | Subscribe to this blog: