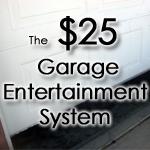 At the end of part 1, I had just finished scoping what would inevitably be the $25 Garage Entertainment system, quite a challenge given the requirements I decided on. If you haven't yet read part 1, go check that out before you continue: http://www.techlore.com/blog/entry/19...
Part 2 - Finding the Gear
Given the restrictions in place, the only real choice for aquiring my goods was to mooch off friends and family or hit garage sales. Considering most of my friends and family don't have the things I need (none of them are real tech pack-rats) garage sales would be my only choice.
I knew up front the speakers and receiver would be the hard parts to come by, and probably suck up most of my budget, so I figured the best deals would be had at garage sales. Note to anyone who wants to try this at home, it took a long, long time to find things. Budget plenty of time for bargain hunting.
The Receiver
My first hit was the receiver. I found a woman selling off a 3 piece Sanyo component system made in the mid 80s for... get this... $40! The system was comprised of a multi-input amplifier/volume control, a seperate AM/FM tuner, and a dual tape deck. I didn't need the tape deck, so I offered to buy the tuner and amplifier pieces, which she wouldn't let go for less than $25 (my whole budget). Through some slick negotiation, I talked her down to $7 for the amp/volume controller, but I had to forego the tuner. I'm not sure what she's going to do with the tuner by itself, but oh well.

The first piece was obtained, but this also brought up a new challenge. AM/FM radio was on my list as a system requirement, which I was planning on knocking out with a regular receiver. So, some way of fulfilling that requirement alone got added to my list. The system had three regular line level inputs, which would be enough for a cable to the MP3 player, a CD player, and a radio tuner.
The Tuner
Surprisingly, during one of my many speaker finding missions, I stumbled across a guy selling a standalone Technics ST-S98A AM/FM tuner, which was obviously a leftover to a component system like the one I found. This guy just wanted to get rid of it, so $2 is all it took to walk away with it.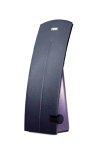 It was missing the power cord (common when buying used gear), but luckily I've picked up plenty of extra power cords over the years.

It turned out the tuner wasn't worth crap for FM radio reception with a wire antenna, but I later found a Terk powered FM antenna (a nice one too... would have cost me $20-$25 in a retail store) in a 50 cent box at another yard sale.
The Media Computer?
I mentioned eariler I had comprimised on the digital audio part by using a cable to hookup a portable MP3 player. I already had the cord for it, and figured that would be enough. That is until I came across a used desktop style PC at a yard sale. The funny thing though, this one wasn't even for sale. It was at the end of the driveway waiting to be picked up by the garbage man. No lie!
I queried the owner and was told the computer worked, but was old and didn't think anyone would want it. Of course, it has a few "problems" (whatever that meant), but it did work and runs Windows 2000.
I thought about using an older PC that I have (I've got a ton of them, and several I picked up well within budget), but they were all mid-tower sized and didn't fit on the shelf (another requirement). It was actually kind of rare to see a desktop shaped PC at a yard sale. Plus, it had a CD player and CD recorder in it, which would fulfill my requirement to play CDs.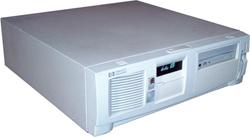 So I asked if I could take it instead of the garbage man. He agreed (and probably thought I was nuts), and I nabbed it without hesitation. To the right is what one of these looked like new, wait until you see the one I've got!
Most of you are probably saying, "You need a monitor now!" And you would be correct, I did. However, you'll see that old CRT monitors at garage sales are a dime-a-dozen these days. It took me no time to find a small, older CRT monitor at a garage sale that would fit on the shelf. Oh, and it only cost me $1. ;-)
I decided at that time to go for the gusto and make it Internet enabled so it could stream music from my server. I did have a Wi-Fi to Ethernet bridge, but it's value was way over budget. So I turned to a buddy of mine who had an extra Belkin Wireless 802.11g PCI card... which he donated free.
The Speakers
After more time than I care to admit searching, I FINALLY found speakers. I'll tell you, speakers are a royal pain to find at garage sales. I saw a few pairs here and there, but they were either way too big, were powered computer speakers, or were way out of budget. My first hit of regular bookshelf size speakers (Zenith?) were totally beat up and probably wouldn't meet my sound quality requirement. However, a rare find of some decent sized bookshelf KLH speakers finally ended the search. A little bit of haggling got them in my trunk for $8. I typically wouldn'thave paid that much for something like these, but I doubted anything better would come along without a lot more looking.
All that's left now is picking up the rest of the accessories and somehow getting all this stuff to work together. Will it turn out? Will I stay within budget?
Continue to part 3 for full pics and the conclusion >>
Post a comment | Subscribe to this blog: