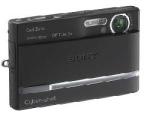 Here you go! Another slimline Sony digital camera.
DSC-T9 looks just like T7 but has 6MP instead of 5MP. Same 3x Carl Zeiss lens but 58MB of internal memory. My call is that in this department Sony learned from Samsung Digimax i5, and from my experience those internal MB are very welcome.
Sony sais that T9 is the first (in the slimline category to offer both Super Steady Shot optical image stabilization and high light sensitivity (ISO 640)).
450$ is a very nifty price if you consider to buy a sexy small foto genius in your pocket to impress the girls.
Comes in black and silver and you can preorder it from sonystyle.com.