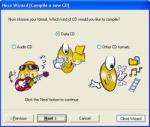 A TechLore "Ask the Experts" Question...
Question:
I ripped a CD to my computer. When transferred, the folder reads 57.8MB. However, when I attempted to burn it back onto another CD, I was only able to add another 5MB of songs. I thought the CD could hold 700MB. Therefore, why couldn't I add at least 30-40 songs if the songs did not exceed 700MB?
-submitted by Robotic007
Answer:
The problem you're facing is that music ripped from a CD is normally compressed to take up less space on your hard disc drive. Otherwise, you'd be taking up 650 or so megabytes with every CD that you rip to a computer. Your CD, when compressed, will take up somewhere between 30MB and 60MB of space, depending on quality settings, format, etc.
In order for a CD to play in standard CD players, the songs need to be decompressed and written back onto the CD as a PCM signal (also known as WAV). Depending on the program that you're using, selecting "Make an Audio CD" tells the program to make CD player compatible discs. So your 57MB files will turn back into 650MB to 700MB files when written back to CD.
Some newer CD and DVD players can playback certain compressed music files. MP3 is the most common, but you may be able to find players that read other formats like WMA, AAC, or OGG. If you have a player like this, don't select anything that refers to an Audio CD in your CD burning program when you burn audio files. Treat it like a data disc, and the files will be written to the disc in a compressed format.
Matt Whitlock - Editor, TechLore.com
Did You Know...
It's possible to put your CDs in storage for good, and play MP3 files on your home stereo instead... and you don't even need an extra computer to do it. Read "How to Play MP3 Files on Your Home Stereo Without a Computer".
You can have access to your entire MP3 music collection from anywhere in your home. The Sonos is a popular new device to get you in control of your music. Read Michael Czyz's long term review.
While You're At It...
There are many different kinds of compressed music formats. Knowing which one to use for your situation can make your music experience much more enjoyable. Read "Understanding Digital Music Formats" to get them straight once and for all.