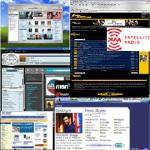 I don't have enough time to keep up with all the online music services that keep popping up. I have used a few and have started to collect stories from others who are also experimenting.

The first thing to understand is that there isn't a single definition that accurately describes the entire field. There are a wide range of players that can rightfully call themselves online music providers including satellite radio providers, pure Internet radio stations, traditional radio broadcasters, music rental services, and the music stores. Each player that jumps in looks for new ways to stand out from the growing crowd. They call it innovation, but it can be really confusing for the consumer.

Here are some of the things that I think stand out when you are sorting through the options:


Many pure online music stores like Apple's iTunes Music Store offer the long-overdue ability to purchase a single song, many times for less than a buck. The good news is that if you hear a song on the radio that you want to buy, you should have no problem finding it on these websites, and even previewing it before you buy.





There are plenty of free Internet radio stations that can be accessed with popular MP3-based software programs like iTunes, MusicMatch, and Winamp. For no cost, you can enjoy mostly commercial-free radio from anywhere in the world with only an Internet connection. And, there are plenty of narrowly-focused genres to choose from, so finding a station that appeals directly to you should not be a challenge.





Satellite radio provider XM is also offering an online option for enjoying your stations indoors. It is offered as an extension to your normal contract but if you find you are getting addicted to your commercial-free satellite radio programming, then there is a fix waiting just inside your browser!





Some services like Real Rhapsody offer more of an online customizable playlist. Unlike the radio-style options, you have much more control over what you want to hear by picking specific artists and genres you want to populate your playlist with - and if you don't like the current song, just hit next to skip! That's a cool feature and, unlike a giant MP3 collection, this won't take up space on your hard drive.





For music that you do purchase online, you must take care to make sure it will play wherever you decide to take it. Some services let you choose songs to burn to a custom (blank) CD. Others download songs in a format specifically aimed at a subset of portable music players. Having to convert among AAC, MP3, ATRAC 3, or Ogg Vorbis files will test anyone's patience.
I am interested in hearing your stories and opinions. Join this discussion and add your comments!