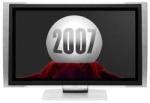 Dec. 18, 2006 — by Steven Castle
We gaze into our 1080p crystal ball and predict the major display products and trends for the year ahead.
If this were a musical, we'd sing, "1080p is the word, is the word that you heard ... 1080p is the way we are feeling." Never mind that 1080p is not a word at all but four numbers and a letter signifying "Full HD" resolution of 1,080 lines, progressively scanned. The point is that 1080p is the big new thing. Or, in musical terms, "It's got groove, it's got meaning."
And it's coming to a lot of HDTVs near you. Only you'll still have to pay a premium for it over resolutions like 720p and 1080i, the latter of which is interlaced, meaning only half the lines are visible at one time. And while only the experts can tell 720p from 1080i, almost anyone can see an improvement with 1080p. You'll find it in flat-panel TVs, rear-projection sets and front projectors. Video projectors capable of displaying content in 1080p resolution will be the rage in 2007, with manufacturers continuing to roll out products.
We expect prices to drop, but heading into the holiday season, you could expect to pay $2,300 and up (mostly up) for any type of 1080p display, while many 720p and 1080i devices are half as much or less.
Also expect to see rear-projection DLP (digital light processing), LCoS (liquid crystal on silicon) and 3LCD (three-panel liquid crystal display) units—also known as microdisplays—get thinner. Samsung's new 46-inch 720p HL-S4676S DLP set is just 10 inches deep and weighs 46 pounds. Its girth may be a far cry from slender 3- and 4-inch-thick flat-panel displays, but remember that microdisplays are replacing those huge rear-projection CRTs that are about 24-inches deep and weigh as much as Sumo wrestlers. Some previous microdisplays were as thin as 16 inches. Look for even more thin models, especially in DLP TVs, to debut this year.
LCoS technology, much maligned in years past for failing to fulfill the promise of competing with DLP is now ... well ... competing with DLP. LCoS variants such as Sony's SXRD (Silicon Crystal [X-tal] Reflective Display) and JVC's HD-ILA (direct-drive image light amplifier) show tremendous improvement in black-level contrasts, which had been the technology's weakness, while boasting tremendous color, crisp detail, superfast responsiveness for action scenes, and an overall smoother, more filmlike image. Oh, and the prices are finally on par with DLP sets—and are in some cases less expensive than comparatively sized DLP TVs. Look for some 50-inch and above 1080p models of both technologies in the $2,000 to $3,000 range.
As always, LCDs are getting bigger, and they are also getting more competitive in terms of price with plasma sets up to 42 inches. Now watch for them to compete with plasma prices on sets up to 50 inches. This leads many to think that LCD is the future. But good old DLP has a trick or two up its sleeve.
One of the dirtiest secrets about DLP has been lamp burnout—with replacement bulbs costing a few hundred bucks each—but now some DLP manufacturers have seen the light, so to speak. And that light radiates from tiny LEDs (light emitting diodes). NuVision and Samsung are the first two companies to offer DLP TVs that use LEDs for their bright light source, and we expect many more to follow.
The tiny LEDs take up far less space than powerful lamps, require no warm-up time and should last much longer. But perhaps the biggest benefit of using LEDs for DLP displays? They eliminate the use of a color wheel, used in single-chip DLP projectors and DLP TVs to generate the millions of colors that create a picture. Much more expensive three-chip DLP projectors use separate chips to produce red, green and blue colors that are combined to produce all the colors. The color wheel of red, green and blue spins in front of a single DLP chip and has been known to cause some unpleasant effects.
Projectors and Screens: The One-Two Punch
Home theater enthusiasts yearning for an authentic cinematic experience know that there's no better way to replicate a commercial movie theater than by outfitting their media spaces with a video projector and separate screen. What they might not realize is that a two-piece setup can be thousands of dollars cheaper than a large flat-panel TV.
"Now that projectors have become less expensive, we're able to offer a setup that's less expensive than a high-end TV," says John McCumber, CEO at Screen Innovations. His company's Zen series of screens was developed specifically for cost-conscious consumers. An 80-inch Zen screen, which is larger than the biggest plasma or LCD TV available, is just $399. "Add a high-def projector to it, and you're still spending less than [many flat-panel TVs]," he notes.
Continue to page 2 >> [[page]]
Screen manufacturers are also making it easier on consumers by creating home theater packages. Stewart Filmscreen is one of the first screen makers to develop a product specifically for a certain make of video projector. Its FireHawk SST (short for Sony/Stewart Theater) was designed to optimize the performance of Sony's new VPL-VW50 SXRD, a 1080p projector that retails for $4,999. It's a sweet setup, considering that the projector is also equipped with HDMI inputs. A Blu-ray high-definition DVD player can plug directly into an HDMI input, giving you the best possible presentation of high-def DVDs. And Stewart Filmscreen isn't the only manufacturer responding by developing a 1080p-friendly screen. You'll see a variety of screens from a number of manufacturers this year designed to maximize the performance of those super-high-resolution projectors.
CinemaScope: Wider than Widescreen
Also increasing is the availability of projectors capable of displaying movies shot in the super-widescreen format called CinemaScope. These movies are wider than the widest widescreen TV, so manufacturers of stand-alone screens are capitalizing on the opportunity to build superwide screens shaped perfectly for CinemaScope movies. These aren't only wider; some of them are also slightly curved to make the picture look even better. A screen with a concave shape, unlike a flat screen, is able to focus light coming from the image back toward the seating area, making the image appear brighter. The curvature also limits the amount of light that is reflected onto the side walls. This light can reflect back onto the screen and compromise the image quality.
Home Theater Goes Outdoors
Outdoor entertaining is hot, and homeowners have already started to bring their big screens outside with them. Protecting the delicate displays from the elements has required that the screens be housed inside special weatherproof cabinetry or placed underneath roofs.
This may soon change, thanks to a new crop of outdoor-ready displays and premade housings. Nippura, a company that specializes in making optical-quality acrylic for large commercial aquariums, has adapted its technology to create a rear-projection home theater screen, aptly called Blue Ocean. It's composed of a diffusion plane (the part that turns light from a projector into a picture) situated between two pieces of water-tight acrylic.
Another outdoor rear-projection screen comes from Stewart Filmscreen. Its StarGlas is a screen laminated between two pieces of glass, which makes it highly durable in outdoor environments. Like regular glass, it isn't harmed if it gets wet or is exposed to sunlight. While the Blue Ocean screen and the StarGlas screen are both great ideas, they aren't the complete solution. Both require that a video projector be positioned behind them, and that piece of electronics, unfortunately, will need to be kept inside somehow.
Unique weatherproof storage solutions for screens give consumers the option of selecting a flat-panel TV for their outdoor entertainment areas. Peerless Industries, for example, is one of the first manufacturers to offer a weatherproof enclosure specifically for large plasma and LCD TVs. The TV simply sits inside the Outdoor Flat Panel Environmental Enclosure (EEO), which features a dual filter fan system to prevent the screen from overheating. Don't expect these new outdoor-ready screens and mounts to come cheap. The EEO will start at around $4,000, for example. Add a flat-panel TV, and you're talking close to $10,000 for outdoor movie viewing.—By Steven Castle and Lisa Montgomery