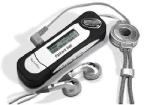 A TechLore "Ask the Experts" Question...
Question
i brought my daughter an mp3 player audiokey 128mb and cannot find out how to download the music from cd to the mp3 player i have taken it back to dixons and they showed me but they have got windows xp and i have got microsoft 98 second edition please help as this thing is driving me crazy many thanks heidi
-submitted by heidi
Answer:
Using a USB MP3 player on Windows 98 or Windows 98SE usually requires the installation of a driver in order for the computer to recognize the device. Windows XP usually does not require the installation of a driver to do this.
You can go here to download the installation software for the AudioKey 128MB model. You'll need to select your country, and go to support, then downloads in the nav bar. You'll find the AudioKey products located near the bottom of the page. They have specific software packages for for different versions of the device, so you'll need to know the serial number of your player to help you determine the proper download.
As a note for all other MP3 player owners, Windows 98 usually requires the installaiton fo a driver in order to use the device with your PC. You can usually download these drivers and other software in the support section of the manufacturer's website for your device.
Matt Whitlock - Editor, TechLore.com