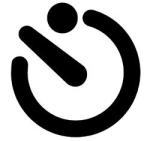 If you thought the only way you can get in the picture is by asking a nice stranger nearby to take it for you, think again. Most film and digital cameras offer a delay mode, which delays when the picture is taken. This delay (usually 10 seconds) allows ample time to get yourself into the image before the picture is taken.
To make this happen:
Find a solid surface to place the camera, at about the right height for the image to be taken properly. This can also be accomplished by using a tripod, which allows easy delay shots from anywhere.

Line up the camera by using the viewfinder or LCD screen (if digital) to correctly position the shot. Remember, you must get it correct because no one will be holding the camera to make sure that it is lined up properly.

Next, engage the timer mode. The timer mode is normally indicated by the icon shown in the picture above. To engage this feature, there is often a button on the camera, or an adjustment in the menu of the camera. Refer to your instruction manual for details about how to engage the timer mode, since it will vary by camera.

Once the camera is properly positioned, and the timer mode has been engaged, press down on the button that you would use to take the picture. Instead of taking the picture, the camera should begin to beep, or flash a light on the front or rear of the camera. This indicates that the countdown has been engaged, and will take the picture soon.

Quickly make your way to where you need to be, face the camera (or strike a pose), and "Say cheese"! The camera will capture the photo at the end of the countdown.
Hopefully, this will help you collect many wonderful photos that isn't missing the person that would normally be holding the camera.