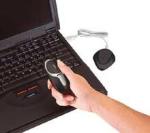 I wanted a new device that would allow me to do presentations without touching my laptop keyboard. If this device was also a mouse, bonus. I also needed for it to be compatible Linux (2.6). I found this link:

Targus Wireless Optical Mouse/Presenter

I love this mouse. I threw away two other mice I had in my bag. I would highly recommend this device.

The good:
- I really like the shape, size and weight of this mouse. I find most mice too light or too large. This one (forgive me goldilocks) is "just right".
- There are the standard three buttons with the middle button being a scroll wheel. There are also three buttons on the side (which I don't use - see the bad). The buttons are very nice. They have good response/feedback and feel sturdy.
- It runs at the 2.4Ghz frequency, but I was pleasantly surprised that it did not interfere with my 2.4Ghz phone or wireless network.
- It looks marvelous! The two-tone color looks more like a side-arm than a mouse.
- It is optical. So, all the advantages of an optical mouse are included.

The bad:
- There are three buttons on the side. The first is ESC. I don't find this of any use in a presentation. This ends the presentation? why would you want that? The second is intended to bring up Internet Explorer. Again? why? That would then require that I go to my keyboard and type. That defeats the purpose of the mouse all together. The third button could have been the most valuable; alt-esc. This will switch applications. I see the use for this. The problem is, if you have more than two apps running, there is NO way to choose which one you switch to. It would be great if this button then allowed you to use the two mouse buttons to scroll through and select a new app. (IMHO).
- I really don't like the rechargeable battery model. I'd much rather replace a couple of AAA batteries once a month then try to remember to "dock" the mouse for a re-charge. This is because you can't use the mouse while it is recharging. I use this on my laptop. When I'm not on my computer, it is turned off! You can't charge the mouse while the USB port is off.