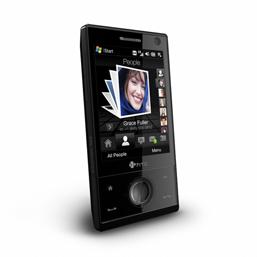 The Sprint HTC Touch Diamond is almost here!!!
Here are the facts!

- Coming to Sprint in September
- SRP $549.99
- Net Cost $299.99

Re-defining the perception of advanced mobile phones… the Sprint HTC Touch Diamond signals a giant leap forward in combining hi-tech prowess with intuitive usability and exhilarating design.

Featuring a sharp 2.8-inch touch screen housed within a stunning formation of brushed metal and flawless faceted edges, the Sprint HTC Touch Diamond is as beautiful to behold as it is to use.
With HTC's vibrant touch-responsive user interface, TouchFLO 3D, and ultra-fast HSDPA internet connectivity… the Sprint HTC Touch Diamond offers a rich online experience to rival a notebook computer, allowing you to interact with Google, YouTube, and Wikipedia as freely as you would with a broadband connection.
Your contacts, favourite music, videos and photos are no longer an uninspired line of text. With TouchFLO 3D, album artwork, video stills and snapshots of your friends' and family's faces are brought to life for you to interact, play and launch at your fingertips.
A 3.2 megapixel auto-focus camera will help you capture the perfect moment in style and with a massive 4GB of internal storage you can keep all the files you need. The integrated ultra-sensitive GPS will help you find your destination as quickly and efficiently as a dedicated satellite navigation unit.
Style and substance in a phone are no longer mutually exclusive. The HTC Touch Diamond has arrived.

Key Features
- TouchFLO 3D user interface
- EF-DO Rev. A and Wi-Fi
- Full HTML Opera Browser
- Microsoft Windows Mobile 6.1
- 3.2 Mega Pixel Camera
- 4GB Internal Memory
- Stereo Bluetooth Technology
Supported Services
- Outlook Email, Sprint Mobile Email (POP3 and IMAP), and Picture Mail
- Lightning fast web browsing using Opera and Mobile Internet Explorer
- Sprint Navigation and Live Search
- Sprint TV and Sprint Music Store
Heres a video to show its features:
http://www.engadget.com/2008/08/18/telus-htc-touch-diamond-gets-video-review/