Chalk it up to self-consciousness, or just merely being pretty un-photogenic, but I've never been a big fan of either taking photos or being in them... until recently. Even when digital cameras first came out and I picked up a (now archaic) Casio camera, I never took a lot of pictures.
Whatever the reason, I love taking and being in photos now and I'm really enjoying capturing the memories of this great time in my life. The problem is that I'm way too cheap/lazy/etc. to use a photo printing service... and let's face it, I'm definitely a "digital" guy. No need to mess around with silly prints. That's why this digital photo frame is such a great solution. I've always wanted one but other gadgets took priority, and myself and my better half were fortunate enough to receive one as a joint birthday gift. Let's see what it has in store for us...
Unboxing the DPF-D70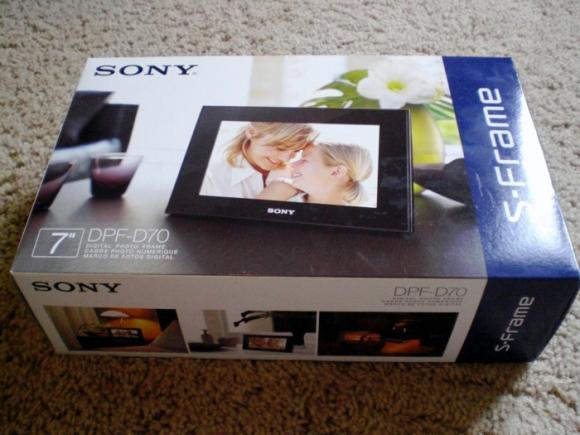 I love Sony boxes, always so nice.
The photo frame is well packed inside its flashy, Sony branded home, and is easy to remove. However, putting the box back together was a nightmare and ended up in some cardboard-tearing frustration... not a big deal, but if you're a box-saver like me, take your time instead of letting the rage overtake you ;)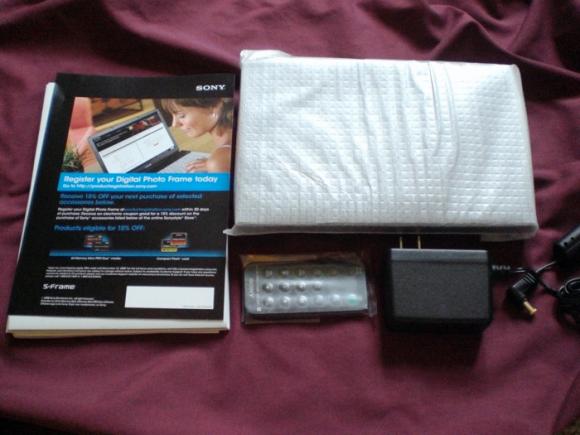 Getting excited now...
Included in the box are the warranty card, instruction sheet, and other papers (honestly, I didn't look at them at all) as well as the unit itself, a cute little remote, and a power cube.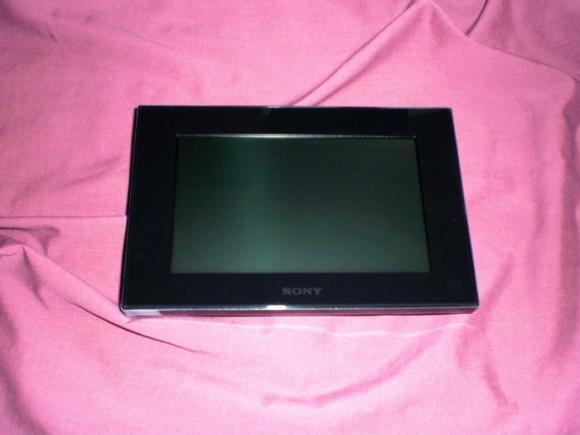 This gadget is quite glossy... and difficult to photograph.
My first thought upon removing the frame's sticky cellophane covering was "Oooo! Shiny!" Because it is, well... shiny. The front of the frame is (presumably) a solid piece of glass, with the 7" LCD screen in the middle, surrounded by a glossy black frame. It's really sharp, in typical Sony fashion.
Let's set it up!
[[page]]
Setting Up The DPF-D70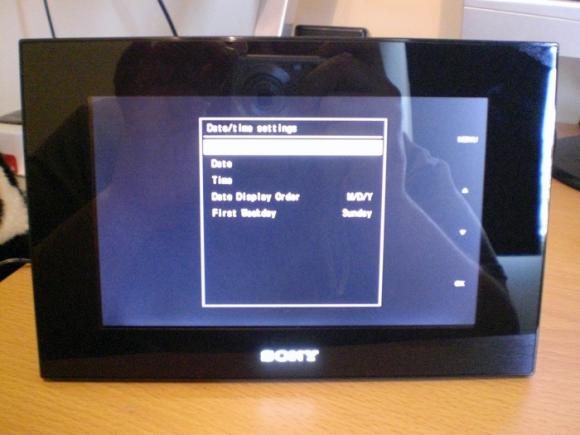 Setting the Date and Time
Alright, so now that you have the thing unearthed from its cardboard shipping device, why not plug it in and turn it on? You're immediately met with a setup screen where you can set the date, time, language, etc. This is important if you want to use the clock or the auto shut-off/turn-on functions, so I'd recommend you set them.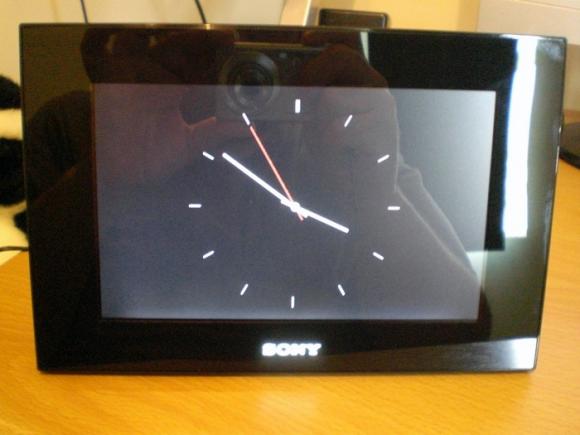 The nifty analog clock, complete with my reflection in the glossy glass.
Now, I imagine you'd like to get some pictures on the frame. One can only stare at a cheesy, overly simplified analog clock for so long! Simply load images onto your storage medium of choice (the frame supports SD/MMC, Memory Stick/Pro/DUO, CF/Microdrive, or xD.) You can also plug it in directly via USB, assuming you have a cable handy. Once you plug the card in and exit the clock mode through the menu, your pictures will start to play. Note that you can modify many settings such as the way the photos transition and the order in which they play.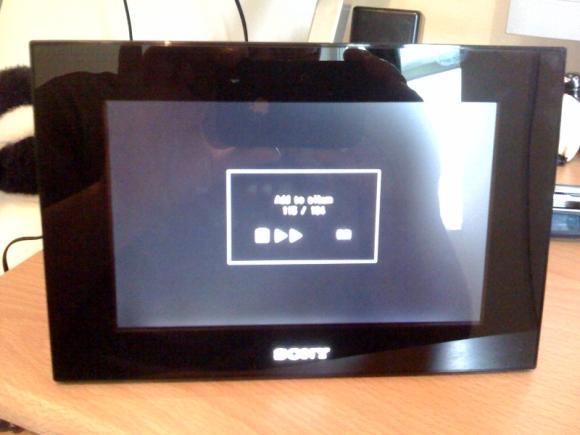 Adding photos from an SD card to the internal memory.
Another function I love is the "add to album" feature. The frame has 256 MB of built-in flash memory, and upon inserting media which contains digital photos, you are given the option to import these into the frame. This is nice, as you can easily add photos from friends' cameras, for example. Note that it does compress the image when you do this - squeezing it to fit on the small storage space but still looking great. You can also export photos from the internal memory, but that will of course spit out at you the crappy slimmed down image, which will look bad on a full size screen.
Using the DPF-D70 Photo Frame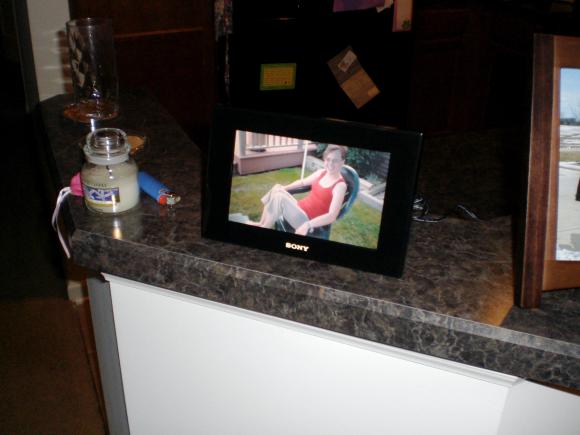 The photo frame in place on my counter. Looks nice!
Now that you have some pics loaded, how does it look? In a word, awesome. The glossy black finish looks great in my condo, and the screen is bright, crisp, and colorful - unlike many cheapie knock-off frames. The multitude of options available allowed me to customize the frame how I like it - 10 second picture interval, fade transitions, and auto-shut-on/off to save power. There's a built-in accelerometer, too, allowing the frame to automatically detect when it is on its side or vertical. When turned vertical, the Sony logo automatically fades to black - sweet! My major gripe is with the remote - in a word - it bites. Even multiple keypresses don't seem to work sometimes. Overall, I would recommend this photo frame to anyone looking for a medium-priced solution to display their digital photos. It's not cheap but will provide a great experience.
The Good:
Beautiful glossy finish
Accelerometer is super cool
Easy to set up
Supports tons of media formats
Internal storage option is nice
Plenty of options to customize the experience
The Bad:
Kind of expensive
802.11 wireless streaming would be nice
Menus are effective but annoying to navigate
The Ugly:
The remote is pretty horrible