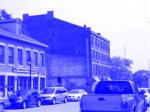 A TechLore "Ask the Experts" Question...
Question:
I have a Sony Cybershot DSC-F707. Lately, the pictures I have been taking have too strong of an overall blue hue to them. I don't know if I have a setting wrong, it is an overused memory stick, or a bigger problem with the camera. Help!



Answer:
Normally, an image with a blue or red hue is an indication that the white balance is not properly adjusted. The camera should automatically adjust white balance, but there may be occasions where manual adjustment is necessary. It also may be possible that white balance setting is no longer in automatic mode.

To adjust the white balance, press the "WHT BAL" button until "AUTO" appears on the screen. This should correct the blue hue in the pictures you take.

You can also try resetting the camera by pressing the RESET button underneath the battery door. This should reset the camera to the default options. As a last resort, you can use computer software to touch up the images after the fact. Most programs can adjust the white balance of the picture.

Matt Whitlock - Editor, TechLore.com



Did You Know...
Is there something missing from your family photos? You maybe? Read Use a Camera's Delay Timer to Include Yourself in the Picture Too to learn how to get everyone in the shot.

Do you have a family album full of pictures that makes your family members look like demons? Read Reduce Red-Eye from a Digital Camera Picture and bust red-eye for good!



While You're At It...
Is your computer cluttered with digital images scattered all about your hard drive? Time to get organized! Read Organizing my Digital Pictures to learn how.