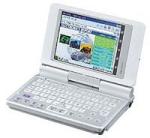 So, I've owned a Sharp Zaurus 760 for about a year now. I thought I'd share my experiences.
First of all, why did I pick the Zaurus for my PDA?
Well, I wanted something different. I've owned several Palm OS based PDAs and found that I never used them. They end up being out of sync and I never seem to have it with me when I need it. So, I realized that I don't use PDAs for the same reasons that most people do. I don't really care too much about the calendar and address book. What I really wanted was a mini-laptop. So, my search led me to the Zaurus.
The Zaurus 760 is a Linux based PDA with a great 640x480 screen size. I'm an avid linux user, so that was attractive to me.
Here are the specs:
Model Number: SL-C760 (SL-C750)
CPU: Intel® Xscale PXA255 400MHz
Memory: 128 MB Flash memory,64MB SDRAM
Display/Resolution: 3.7" LCD Display
640x480 pixels, 65,536 colors (with backlight)
Character Input: Handwriting Recognition & QWERTY Keyboard
Inputs/Outputs:

One (1) I/O Port
One (1) Stereo Jack
One (1) Infrared Port
One (1) Compact Flash Slot (Type II)
One (1) SD Memory Card Slot

Battery: 3.7 V DC, lithium-ion rechargeable battery
Power Consumption: 2.7 Watt
Dimensions: 4.7" x 3.3" x 0.9" (120 x 83 x 23.2 mm)
Weight: 8.8 oz (250g)
Operating System: Linux OpenPDA
The Good:
First, let me talk about the OS. The OpenPDA software was ok. But, it tries too much to be like PalmOS. So, I opted to go with a true Linux/X11 ROM. Now, if you are using this as a true PDA, DO NOT go this route. But, if you want a mini-laptop, check out the pdaZrom. Also, check out the pdaXrom forum.
About the other specs, the screen is absolutely awesome. I've never seen a PDA with a screen this nice. The speed is pretty good and the built-in memory is above average. Having both SD & CF memory slots is very nice. I usually use the SD for memory and CF for other devices (Bluetooth, Wifi,etc). The clam shell style is very nice and it is quite durable. The flip screen is cool to show off, but I rarely really use it.
Usage:
I run Linux on my laptop. So, running KDE apps on the Zaurus is great. I am able to use the same PIM apps, korganizer, kaddressbook, for both my laptop and Zaurus. I can ssh into the Z from my laptop and remote display using standard X features. I use it as my mp3 player using xmms.
Where to buy:
So you may be asking yourself, "I've never seen this make/model at Best Buy." True. This model is only sold in Japan! But, there are a few companies that will import them. I used Dynamism, but there are others. A google search can help with that. Also, Dynasim has some great photos of the Z.
The bad:
There are some things I don't like about the Z. First, I would like to be able to display/view powerpoint presentations. There is an app that comes with OpenPDA, but it doesn't work well (several presentations looked bad) and this app is not supported under the Xrom. I haven't spent much time looking for alternatives, but there must be something. I'd love to watch a presentation with an mp3 recording while on an airplane.
The keyboard is a little bit "off". Since it is made in Japan, some of the keys are not exactly where I expect them to be. But, there are ways of remapping the keyboard.
I wish it had built-in bluetooth and 802.11. I don't like having to keep swapping out CF cards.
Newest Z:
Sharp just announced their newest Z, the C3000. It has a 4gb internal drive, but most of the other specifications are the same. With prices of CF/SD cards coming down daily, I don't see the advantages. Come on sharp... ADD WIRELESS!!
So, bottom line:
I love this little device. It is a great geek toy and a real head-turner. I hope this is just the beginning for Sharp's Linux-PDA offerings.