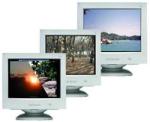 (Tested in Windows XP - works in both home and professional versions)

Step 1.) Take pictures!

Step 2.) Load the pictures into a file in your computer. (weed out the ones you don't want to see, and make sure you know the name and location of the file of folders that you want.)

Step 3.) Right click on your desktop, and select properties from the popup menu.

Step 4.) Click on the Screen Saver tab in the Display Properties window

Step 5.) Click the Settings Button

Step 6.) Click the Browse Button in the My Pictures Screen Saver window, and find the file where you stored your files.

Step 7.) click on OK in each open window to close out

Step 8.) Enjoy!