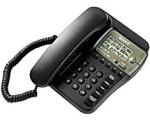 A TechLore "Ask the Experts" Question...
Question:
I lost the instructions on how to program my Sony IT-ID80 telephone/answering machine for auto redial. Can you please tell me how to put my numbers in my phone for auto redial?



Answer:
The Sony IT-ID80 offers automatic dialing in three ways: speed dial, one-touch dial, and caller ID dial. Given that you wish to manually enter your phone numbers, it will be assumed that you are trying to set up speed or one-touch dialing for your phone.

The steps for this process are as follows:
Press PGM. "==PROGRAM==" appears on the display.





For one-touch dialing: Press one of the five one touch dial buttons (A to E) underneath the phone's LCD screen.

For speed dialing: Press SPEED DIAL, and then press one of the dialing keys (0 to 9) to store the number on. If a telephone number is already stored on that key, the stored number will appear in the display.





Enter the phone number you wish to store, as to be dialied in your area. You can input a maximum of 16 digits, including tone and pause (each of which are counted as 1 digit).





Press PGM. You will hear a confirmation beep, and the number is stored to the appropriate key.
For other information on your particular phone, the manual is available for download from Sony's support site. Ron's article "How to Find Manuals to Help you with Sony Products" has a link to Sony's support site. Enter your model number into the box, and click the "Primary User Manual" link.

Matt Whitlock - Editor, TechLore.com