[[ad]]
Well... not literally, of course. I imagine that shooting an OtterBox case point blank would probably cause at least a little bit of irreversible damage. Of course, I'm pretty sure it can handle just about everything else you throw at it.
The Defender case by OtterBox was clearly designed, as their website states, for those "with the worst luck ever," or perhaps those who are particularly abusive to their electronics. Or, like me - a bit obsessed with keeping their precious gear in pristine, untainted condition. Upon recently upgrading to the iPhone 3G, I was delighted to get my hands on this iron-clad protective case.
Unboxing the OtterBox Defender for iPhone 3G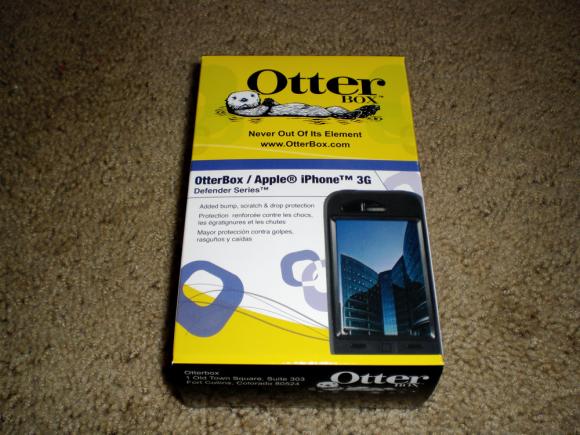 The packaging for the Defender case is simple - a glossy, attractive box with details and features of the case, along with the ultra-cute swimming otter logo (I wonder if he/she has a name?) You even get a cool sticker!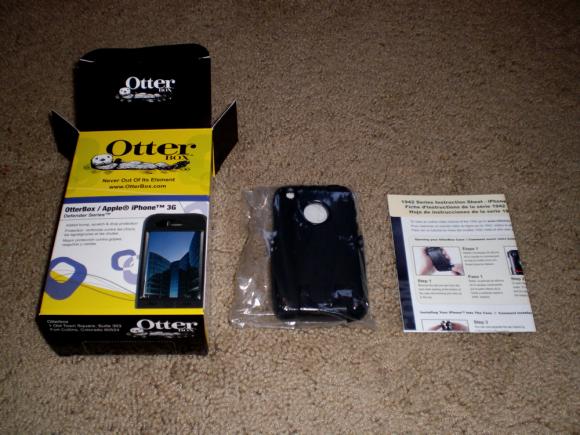 Included in the package are the case and holster along with a simple instruction sheet showing you how to properly install the iPhone in the case.
On to the first impressions...
[[page]]
First Take On the OtterBox
I was quite excited to unearth this spectacular case from its plastic packaging, and almost didn't notice the incredible attention to detail at first. Once I calmed down (I had way too much coffee this afternoon) I examined the OtterBox more thoroughly.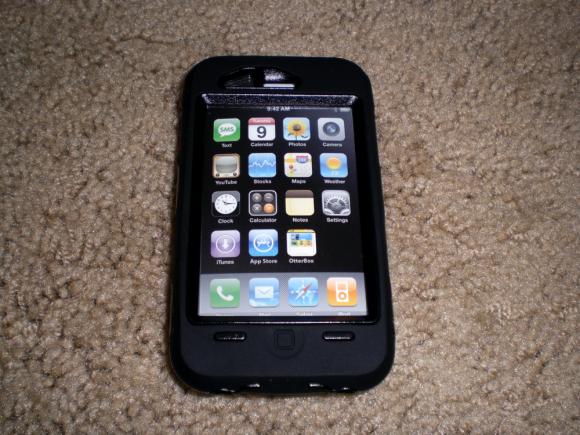 [[ad]]
I also didn't realize that this case comes in two parts - an outer silicone wrap covering a hard plastic shell. Every visible line fits or seam fits precisely, from the bezel to the plastic flaps covering the power connector and silent/vibrate switch. The silicone is smooth to the touch and unlike other products that use similar material, it doesn't attract dust or hairs - nice!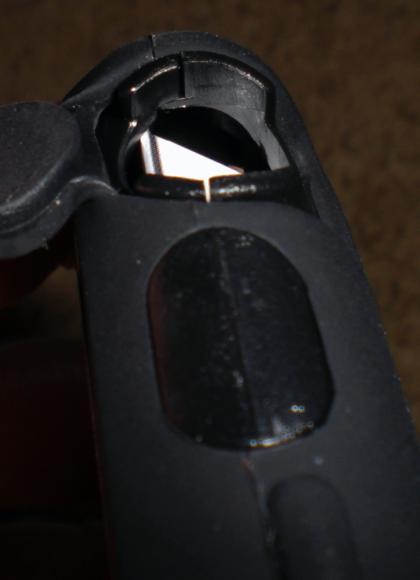 So let's get our iPhone protected...
[[page]]
"Installing" Your iPhone 3G In The Defender Case
Now for the fun part - actually getting your Apple-flavored candybar into the thing! Like I mentioned earlier, the friendly folks at OtterBox give you an easy to follow instruction sheet to do this. An instruction sheet? For a case, you say? Yup... for protection this good, there are steps.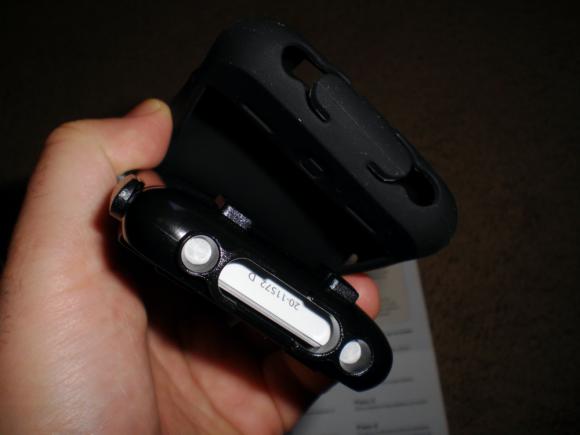 Don't fret, though. It's not so bad, it's actually a really cool process, and kind of fun. First, you've got to peel the outer silicone layer from the hard inner shell. I would be careful NOT to pull on any of the thinner layers or button covers... pull on the larger areas to avoid breakage.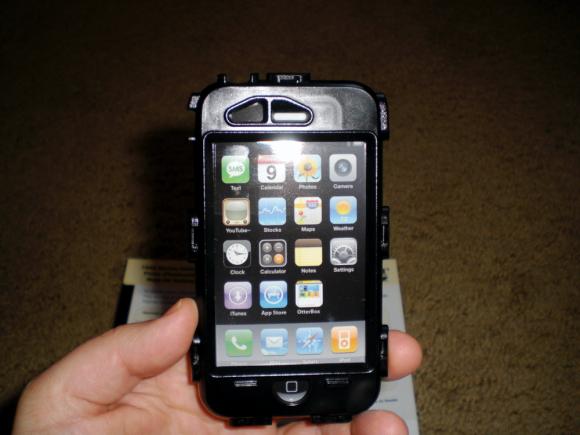 See those protrusions on the side? You have to slip your fingernail into the seams on those little nubbies in order to pry the case apart - it comes in two halves.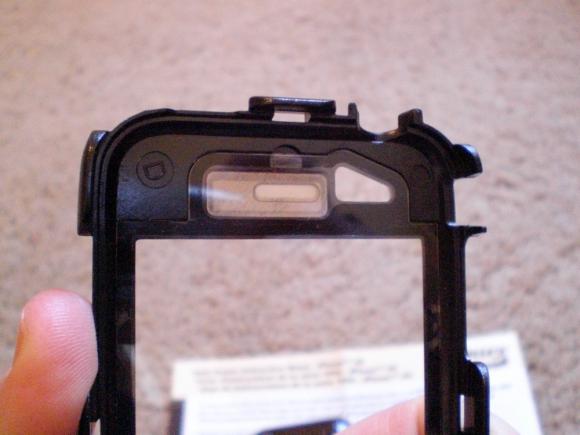 [[ad]]
The front half of the case is where you'll put in your iPhone, but before we do that, marvel in the detail here - I love how the protective film extends over the speaker, complete with a fabric guard to keep out dust and water. Awesome. Oh, and make sure that if there's a protective film on there, that you remove it. You may also find protective film on the camera and Apple logo windows.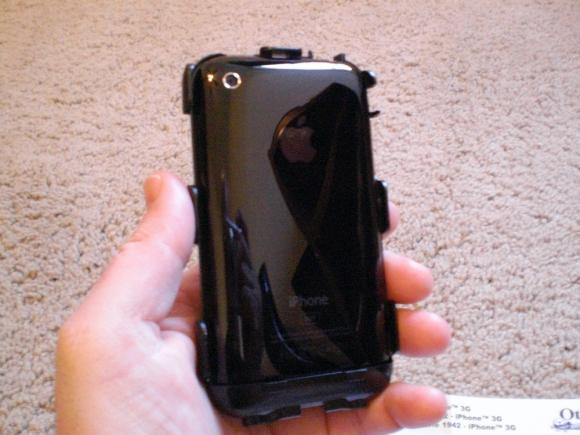 Go ahead and drop your phone in the front half of the case; it'll fit just perfectly. Snap the back half of the case on, making sure that you're closing the latches you opened, creating a protective seal around the phone. You'll hear a nice, tight "click" when you do this. Finally, all you have to do is re-wrap the silicone around the outer shell, and you're all Otter-ed!
But, how does it feel, now that we're all done?
[[page]]
[[ad]]
Testing The Otterbox Case
At first, I was concerned that the Defender would be difficult to use or otherwise unwieldy; that it would be bulky, and affect the functionality of the iPhone. (I was never concerned about it's ability to protect, however.) It turns out I was wrong... way wrong.
First off, the buttons are easily accessible, nay, easier to access and press via the silicone button "extensions" on the outer case. Second, voice reception and speaker volume seem to be completely unaffected. Finally, it doesn't add as much weight as I feared; in fact, it doesn't seem like much at all. While the case does add some "bulk" to the phone, this isn't a bad thing. The case enhances your ability to grip the phone securely, something you will grow to appreciate quickly. Finally, the protective screen cover doesn't affect touch reception and certainly offers rock-solid protection.
The Best Cellphone Holster I've Ever Used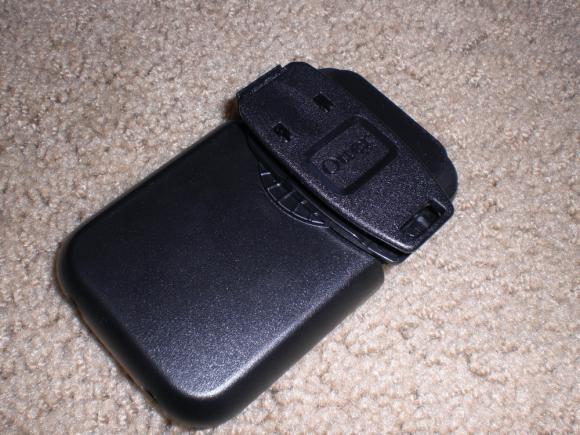 Yeah, I said it. It's the best cellphone holster I've ever seen. And I've used a lot of holsters. More accurately, I've destroyed a lot of holsters. This one feels absolutely rock solid. Not necessarily indestructable, but pretty close. The biggest gripe I've had with cellphone cases in the past has always been faulty holsters... either they snap off, stop ratcheting (I like mine horizontal,) or they just plain break off, usually due to cheap glue holding them in.
Not the OtterBox holster. I'm confident this will endure years of my constant iPhone fiddling, de- and re-holstering, and general nervous ratcheting. The iPhone snaps in with authority into half-sperical divots. Last, but not least, the clip can be locked into a deployed position and used as a stand, allowing you to view the iPhone in landscape mode on a flat surface.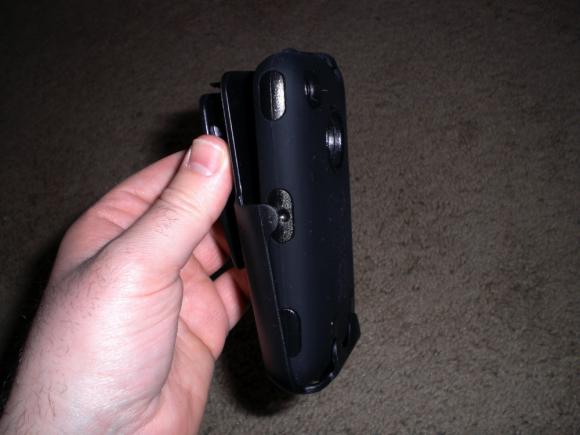 Conclusions
There are some very minor caveats. First, the Defender by OtterBox is more expensive than your conventional leather case or eBay special, retailing at $49.95 USD, so expect to pay a bit of a premium for this kind of quality. Of course, it's worth every penny in my opinion, as I'd easily tear through two $30 cases in half the lifetime of this tank. (And, in this economic climate, I'd rather not have to buy another new phone anytime soon.) Second, the OtterBox does add to the size and weight of the phone somewhat. Finally, the screen protector "sticks" somewhat to the iPhone screen, creating a watermark effect that can be annoying. If you press lightly (like you should be anyway) this effect can be minimized, and it doesn't bother me that much.
Those small things aside, I am absiolutely in love with my OtterBox. I feel like I could dip my beloved iPrecious in bacon grease, run it over with a monster truck, and subject it to nuclear radiation before it would break... now that it's encased in the Defender.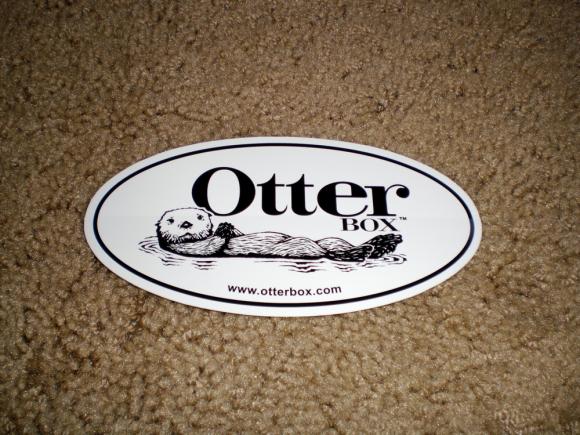 Seriously, don't actually try it, but you get the picture! The Defender just feels incredibly solid. I get[[ad]] the feeling that a team of very dedicated, intelligent, thoughtful people put a huge amount of effort into developing this product, resulting in an exquisitely protective case with superior attention to detail.
To wrap things up, I have to say that the OtterBox Defender is a breath of fresh air; a nod to those who still appreciate quality, and a pleasure to own and use. Check out this video at OtterBox's official site to learn more, or click here to pick up one of your own!
One last thing... if you don't have an iPhone, don't worry. They have models available for BlackBerry, HP, Palm, and many others.