Like many people, I've really gotten addicted to having a big music collection. Recently, though, I've gotten into other things, like video podcasts and recording LiveTV on my Mac. My pitiful 120GB external drive, unfortunately, just wasn't packing the kinda space I needed. So, I began the journey of finding the right drive for my system.
I had been holding out for quite some time to find a really smashing deal, but was hesitant to buy a "no-name" brand. I got lucky and found the Maxtor OneTouch 4 Plus at a local retailer, although I would have paid almost exactly the same price online.
I'm very happy with my purchase and wanted to share some details with the community.
Unboxing the Maxtor OneTouch 4 Plus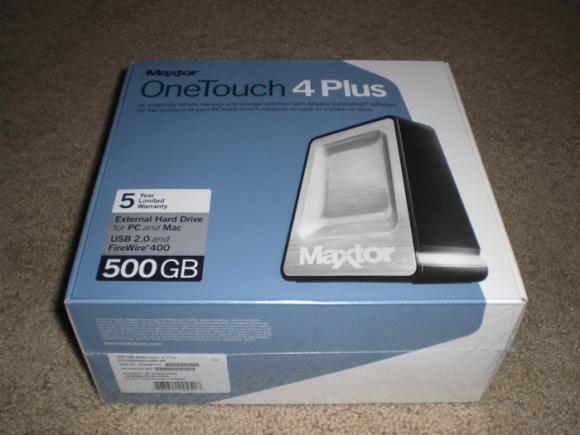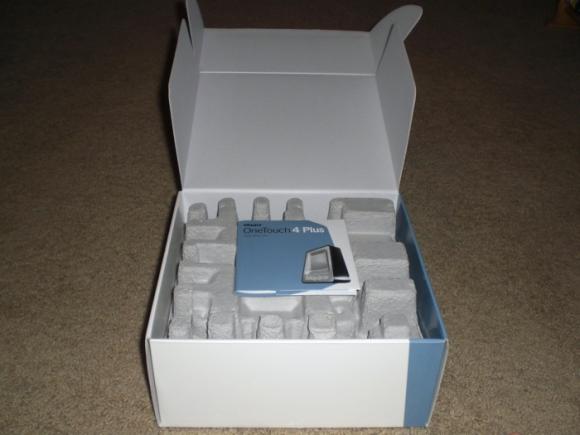 You can see the box above. It's quite attractively packaged.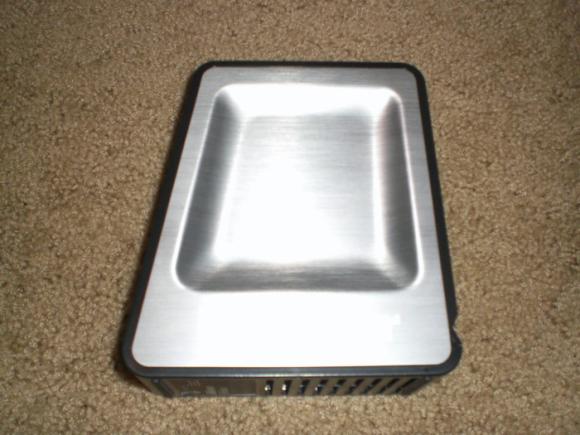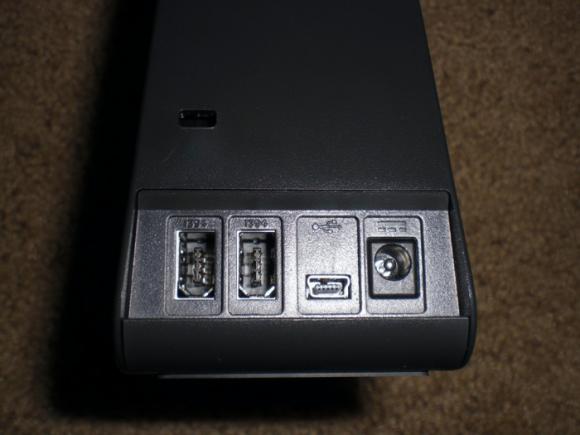 Here, you can see a side view of the drive, along with the view of the ports on the back. One of my favorite things about this product is that it has both FireWire and USB ports. I had an unused FireWire port on my Mac Mini, so it was perfect.
Using the OneTouch 4 Plus / First Impressions
[[ad]]
Installing the drive was easy. I plugged it in.
Seriously, that's all it took. That's all any external hard drive should take to install, of course!
That being said, the OneTouch 4 Plus does come with a software suite that one can use to password protect or encrypt the contents of the drive, along with one touch backup features. I chose not to use these features, as this is primarily being used as a drive to store my music, podcasts, and TV recordings.
Chic and Solid
Moving forward, the drive immediately impressed me with its build quality and "coolness" factor.
First, the build quality is impressive. The sides are made of aluminum (or some kind of metal) and the rest is plastic, but for a sub-$100 USD hard drive, it is very well made. It has a unique shape and a bright white LED light bar on the front to show HDD activity. It's just really cool.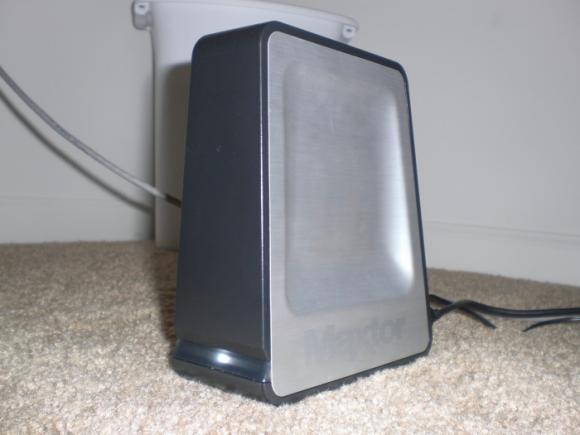 I have a dorky habit of naming all of my computer peripherals, and this drive was no exception. It was immediately dubbed "The Obelisk," since that's what first jumped into my head. I know, I know - for the vocabulary nerds out there, it's not technically an obelisk (it's more of a monolith) but its slighly angled shape inspired me to select that name.
I thought it had a striking resemblance to the sculpture in 2001: A Space Odyssey, one of my favorite movies, another reason why I love it. If I was a gorilla, I'd be curious about this thing too!
More Than Just A Pretty Face: Specs of the Maxtor OneTouch 4 Plus
This drive has more to offer than just looks, though. One of my criteria for an external drive was a minimum speed of 7200 RPM, and the Maxtor delivers.
It also has a 16MB cache, twice that of many competing drives. I purchased the 500GB version, but they are available in 750 GB and 1TB versions as well.
The transfer rate is quite good and is rated at 43 MB/sec sustained transfer rate (see Maxtor's official site.)
All statistics aside, the drive has been stable and fast through many file transfers and backups since the initial purchase.
Conclusion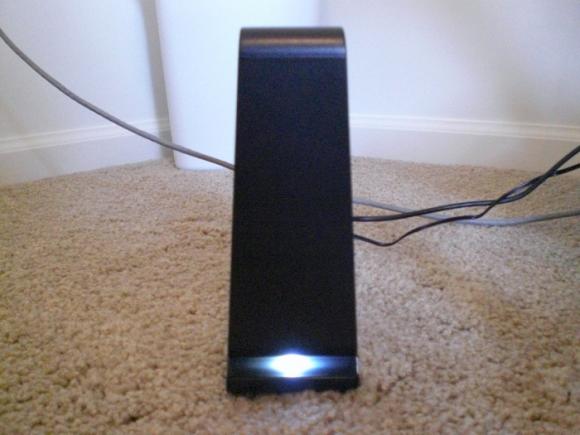 The Maxtor OneTouch 4 Plus is a reasonably priced, well made external hard drive that delivers what is promised. Sporting a 7200 RPM hard drive and a 16MB cache, it ensures your transfers will be quick. With USB and FireWire ports available, it should fit into any system with ease. Finally, it just looks sweet next to my other components, and I bet it would look great next to yours as well!