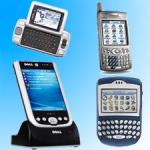 From Issue #10
-Contributed by TechLiving
Today's PDA is co-worker, a lifesaver and a friend -- how to choose the right device to keep in touch without being on-call.
Personal Data Assistant (PDA) technology has come a long way since the original PalmPilot. We live in a veritable smorgasbord of choices with Palms, Pocket PCs (PPC), Blackberries, Sidekicks and snazzy cell phones all vying for our money. Thanks to the logical marriage of cell phones and PDAs, however, being on the go no longer means being out of touch. While this may or may not be a good thing, current technology means wherever you go, you can access email, instant messages (IM) and surf the Web. It might not be just like home, but it's one step closer.
PDA users have always lauded the hidden power of their little so-called organizers, especially as laptop alternatives. Both Palm and PPC units offer MS Office-type applications and with the addition of a full-size, fold-up keyboard, you really can have an office in your pocket. "Palm and Pocket PC-based devices both have nice browsers built-in, so you can't go wrong with those," says Joel Evans, head geek of Geek.com. "If you're a heavy email user and have a need to stay constantly connected, then the Berry is for you." Examine your needs, and choose your own pocket pal.
The Pocket PC
One of the snazziest of all cellular PPCs is HP's iPAQ H6315 (and the very similar H6325). Some iPAQs are known for nearly absurd levels of PDA power, and these shiny, gorgeous devices sport large high-resolution screens and full access to popular Microsoft utilities, like Word, Excel and Outlook. Currently running Microsoft Windows Mobile 2003, there isn't much the iPAQ can't do, and with the latest adopting built-in cell phone technology, that power has just been taken up a notch. The iPAQ features GSM, GPRS, WLAN and Bluetooth connectivity, which essentially means that almost anywhere you go, you can use it -- whether you are at home with a wireless network, in a Internet cafe, or just wandering the streets aimlessly while reading your email (hey, it happens).
"What I like most about the Pocket PC is its ability to sync perfectly with Outlook," Evans explains. "I have over 800 contacts and each record is loaded up, so I need that syncing to work seamlessly."
Since it actually runs Windows (albeit a smaller version), syncing with its big brother operating system (OS) is simple -- and wireless -- which means that keeping palm records current is easy. The unit supports all the bells and whistles a technophile would want: Web browsing (with Java support), text messaging, full service email (so you can view attachments), speakerphone capabilities, a built-in camera and even MS Media Player to play movies and MP3s. It also includes a snap-on thumb keyboard and has a 200MHz processor with 64MB RAM.
The downside to PPCs has always been twofold. The first is price. The iPAQ H6315 is far from economical with a list price of nearly $579, although you may be able to find it cheaper online. Also, service providers are limited -- mainly to T-Mobile. Similar units such as the Cingular-supported Siemens SX66 ($699.99) and Sprint's PPC-6600 ($629.99) both clock in around the same price. These two have nifty slide-down thumb keyboards, however. Though these units claim talk time of about four hours, battery life has always been a chink in the PPC's armor, so count on recharging them frequently.
The Sidekick
The T-Mobile Sidekick has been around for several years and, along with the Blackberry, offers quirky appeal -- both are completely proprietary devices, unrelated to either Palm or PPC technology.
With an ingenious flip-around screen that reveals a small QWERTY keyboard, plus email, instant messaging, Web browsing abilities and a decided gee-whiz factor, the Sidekick II isn't as expansive in its do -- everything abilities as the Palm and iPAQ, but still provides solid Internet accessibility on the run. Unfortunately, while the Web browsing abilities have been improved over previous iterations, the unit lacks support for Java and can't handle email attachments. The Sidekick also lacks Bluetooth, won't play MP3 files and is only supported by T-Mobile. However, it does offers plenty of space for your address book, excellent calendar and organizer tools, and has thorough IM support. The Sidekick II also has a built-in camera and can sync with your PC via USB or an online Intellisync tool. Intellisync gives users the ability to upload and download organizer data and photos to and from their PC through a Web interface. Another plus for the Sidekick II is price. Listing at $299.99, it is considerably cheaper than other cellular PDAs.
Palm Treo 650
The most common PDA in the bunch is the Palm Treo 650. Supported by nearly every cellular provider out there, this is the traditional Palm on steroids. Although not quite as streamlined and gorgeous as the latest Palm Tungsten (mostly due to the built-in thumb keyboard), this is definitely the epitome of the do-anything PDA. Buying the Treo 650 means Web browsing (although not with built-in Java support), full email capabilities with attachment support, easy text messaging, built-in Bluetooth, and instant access to the thousands of Palm OS programs. For easy out-of-the-box support, the Treo 650 includes Real Player for video and MP3 playback, the VersaMail email client and Documents to Go for MS Office compatibility. Like most top-of-the-line smart phones, the Treo 650 supports IM and has built-in camera and speakerphone abilities.
That said, the Treo 650 isn't quite the powerhouse that is the Palm Tungsten T5, but the Treo 650 does sport a faster processor than the iPAQ. Palms have traditionally have been focused more on functionality and portability, but the Treo 650s powerful 312-MHz processor and built-in 32MB of RAM take a toll on the battery life. Even the manufacturer claims the Treo 650 only has two-and-a-half to five hours of talk time. The screen on the Treo 650 is high-res (320x320), which is a notable improvement over previous Treos and makes browsing, reading and working easier.
Choosing between the PPC and Palm units still boils down to personal preference. Both units are powerful and have a plethora of business, entertainment and utility software available. The Palm OS is intuitive and long-lived, so it's very stable; newcomers to the PDA world will likely find the portable Windows devices a little homier.
Blackberry 7290
Lately, the "in" office device seems to be the Blackberry, which is an oddly specialized device and the great purveyor of "pushing" email (see sidebar for more information). "I find it an indispensable tool," Evans. "It's nicknamed a 'Crackberry' because people get completely addicted to it."
Like most PDA units, the Blackberry can browse the Web, but it wasn't really designed for that, and, as such, browsing is notably more limited than the iPAQ and Treo. Instead, email is the Blackberry specialty. Email addicts can route up to 10 accounts to their Blackberry and the unit lets you know when "you've got mail." Blackberries are "always on," automatically receiving new email as you get it. Like other PDAs, Blackberries can support and view standard Office-type attachments (MS Word, Excel, PowerPoint, WordPerfect, and even PDFs).
The wide availability and recent release of the consumer-focused 7100 series has been the Blackberry's jump into the mainstream market place. More service providers are now offering the Blackberry to non-business users. These new Berries have a more cell phone-like form factor and come in shinier colors, but thanks to the rather crippled cell phone-style keyboard, aren't everyone's idea of a step up. "I found myself gravitating back to the standard 'Berry since I do a lot of text entry," Evans says.
The BlackBerry is one of the only smartphones that doesn't have a camera or support bells and whistles like MP3 playback. The list of third-party software is growing, but for most purposes, the unit comes with everything you'll need. The operating system is actually Java-based, so new programs are easy to write. Battery life is about four hours.
Although the 7100 units can be had for free with service contract agreements, the older styles with full thumb keyboards listed at around $399.99. Cellular One, T-Mobile, and as of this September, Sprint Nextel, support the BlackBerry unit.
There is a world of options out there for the well-connected traveler -- enough to fit almost any need. If bells and whistles just short of the kitchen sink are what you want, the Treo or the iPAQ might be the gadget for you. For the more practical-minded, the Sidekick and the BlackBerry are very useful. All of these choices have pros and cons, but still manage to provide a level of once unheard-of on-the-go connectivity.
---
Pushing Email
Unlike older cell phone Internet technology, most of these new units are "always online," so old-school concepts like "dialing in" are usually obsolete. Sprint's service, for instance, transfers between dormant and active states, depending upon your usage, though these units can get disconnected from the network. Since this is the case, "pushing" email has become a hot button issue. The BlackBerry perfected it, but service providers are finding solutions for PPC and Palm units as well.
Chief among the wannabe-BlackBerry push solutions is Good Technology Inc.'s GoodLink, currently being thrown into service by Sprint, Cingular, and others. GoodLink works with most of the new PDA and smart phones out there (and its compatibility is growing regularly), making push technology far more accessible to non-Blackberry users. The software gives users a MS Outlook-like interface with a push twist, and is just starting to role out for consumer use now. Although fees for business users are rather high, the cost for consumer versions will either be rolled up into your normal subscription rate, or an add-on for a nominal fee.