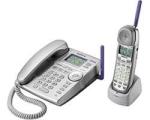 A TechLore "Ask the Experts" Question...
Question:
I have a Sony telephone model SPP-A2480 and every time there is a phone number of someone who called displayed on the display, the area code is not there and therefore the feature that lets the phone dial automatically when I lift the receiver is of no use.Is there some way in which the area code can be inserted so that calling back could be accomplished without reading the number on the display and manually adding the area code first and manually adding the number?

-submitted by joeP.



Answer:
Yes, you can force the phone to automatically dial the area code when calls are sent to the handset. The phone automatically assumes that you do not need to dial the area code for local calls. Therefore, the phone omits area code information from local telephone numbers when the home area code has been defined in the phone's setup menu.

To setup the phone to dial the area code for local numbers, perform the following steps:
Press "program" on the base




Choose "Base Settings" by turning the jog wheel, and press "enter".




Enter your area code under "Local 1" instead of "home".




If you have the local area code programmed under "home", you may need to delete it.
This will set the phone up to dial the area code + number for outgoing local calls.

Depending on the dialing properties for your local phone system, you may be forced to dial a "1" in front of all local numbers. If this is the case, you may need to delete the area code under "home" and "Local 1-5". Without any area code info, the phone should register every number in the 1 + area code + number format.

Refer to pages 13-16 in your manual for illustrations to guide you through this process. If you do not have your manual, you can download it here.

Matt Whitlock - Editor, TechLore.com