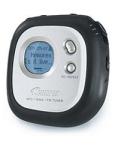 A TechLore "Ask the Experts" Question...
Question:

I just bought a Memorex MMP8500 mp3 player for my son. I installed the software, but it does not bring up a Removable Disc Drive for me to use for copying songs from Real Player. Any idea how I can get that RDD to come up?
-submitted by gmlarson
Answer:

As a note for everyone learning to use their MP3 players, not all players will prompt as a removeable disc in Windows, especially when they require a proprietary program to transfer music (Sony's NetMD MiniDisc players for example). The MMP8500 does allow access as a removeable disc drive, which does not require Real Player to transfer songs that are not copy protected.
According to Memorex, both the internal memory and external SD/MMC card should be available as disc drives. If you're not seeing the device when connected, here are the possible reasons why:
If you're using Windows XP, I would try removing the device driver you installed from the CD, reboot, and reconnect the device. Windows should assign its generic USB Mass Storage driver, and create a Removeable Disc Drive icon in My Computer.

Memorex notes that changing the installation path of their software could interfere with the device driver. You could try uninstalling the software, and reinstalling it without changing the default installation path.

If your device is properly recognized when it's connected prior to boot, check your USB settings and make sure it's configured to be hot swappable.

If Real Player is giving you a headache, you could try using Windows Media Player to transfer your music. The steps for doing so are listed here.

Make sure you're using the latest firmware for your player, as manufacturers are always making improvements and fixing bugs. You can download the latest firmware for the MMP8500 here. Just be sure to follow the installation directions precisely.
I hope this gets you on the right track to better using your MP3 Player. If you have additional comments or questions, please use the discussion page at the bottom of the article.
Matt Whitlock - Editor, TechLore.com