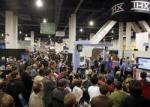 CES has become not only an event in recent years, but a spectacle within itself. The entire Las Vegas Convention Center is filled with enough electronic gadgets and gizmos to make any electronic enthusiast feel like a kid in a candy store.
CE manufacturers use whatever tactic they can to impress the endless stream of visitors that walk by their booths. Some bring in live musicians, use famous celebrities, build monstrous exhibits, and anything else they can think of to attract visitors.
CES is about the future of electronics, and the theme was undoubtedly convergence. A slew of convergence devices are poised to hit the scene over the next month, and increased emphasis is being placed on portability. Tons of new portable audio players are on their way, now complete with color screens and video support. Video on the go is quickly becoming a reality.
This years CES proved that thin is in, as the selection of flat panel displays is continuing to grow. Sharp displayed a 65" flat panel LCD that carries the same styling as their regular line of AQUOS displays. LG Electronics, Panasonic, and Philips showed a massive amount of plasma displays, most of which were integrated for high-definition television via terrestrial broadcast and cable. Samsung debuted their prototype 102" plasma, the largest television ever constructed.
Microdisplay technologies were a bit hit as well, proving that microdisplay will still be a key player in 2005. Manufacturers like LG and Samsung showed a variety of DLP displays, many of them now using TI's HD-3 chip, which boasts a resolution of 1080 x 1920 pixels. Technology company 3-LCD highlighted their 1080 light engine, which will soon be found in newer LCD rear and front projection displays. Sony showed off SXRD, their newer microdisplay technology inspired by LCoS, in a 70" rear projection TV connected to a Blu-Ray HD player.
Among the normal fare of bigger, faster, and better was many newer innovative products bound to be a hit among consumers. Sling Media's Slingbox amazed visitors with the concept of place-shifting, allowing access to your home entertainment system from anywhere with a broadband connection. Uniden showed off it's ELBT595 5.8GHz Digital Phone System that combines your home phone with your cell phone via Bluetooth technology, finally solving the headache of carrying two phones around your house.
Impressions
Overall, the 2005 International CES was a huge success. Exhibitors unveiled many new, never before seen, technologies that are bound to gather attention. The big CE companies like Sony, LG, Samsung, and Panasonic were on the cutting edge, showing off lots of new products in key growth segments like plasma, portable audio/video, and cellular.
I was hoping to see a little more innovation in digital cameras, but aside from higher resolutions and the addition of Wi-Fi, I found myself unimpressed by what I saw. The same one-upmanship in the flat panel market made most of the new products appear one in the same, but at least there were some impressive plasma and LCD products that made their way into my top 10.
Given that technology has advanced so quickly in recent years, many of the new products unveiled at CES would be much too expensive for the general masses. But, at least as products continue to get better, the stuff that's too expensive today should begin their inevitable drop in price, allowing the top technologies of yesterday to find their way into your life.
Given the things I've seen at CES in 2005, I can only imagine what manufacturers will have in store for us in 2006.
Top 10 Products at the 2005 International CES
I decided during the show that I would not decide my top 10 list until I got back to Chicago, allowing time for everything I'd seen to sink in. Oftentimes, you decide a winner at the show and then realize you've forgotten about it by the time you get back. I decided to see what products I would still be excited about when I returned, and make those my top picks for CES.
Sling Media's Slingbox Personal Broadcaster - Sling Media hit it head on when they designed the Slingbox. Just how TiVo introduced the concept of time-shifting, Sling Media is bringing place-shifting to the world. Imagine a device that connects to your home DVR, DVD mega-changer, and cable or satellite box, then allows you to view whatever sources are connected anywhere in the world with a broadband internet connection. Sounds intriguing doesn't it? I can't remember how many times I've been stuck in a hotel watching a television that seems foreign, but with a Slingbox I could watch shows recorded on my DVR, or my own local programming from anywhere in the world. The Slingbox even allows you to control the device remotely, so you can change the channel or access recorded shows on your DVR. Time-shifting grants the power to watch what you want, when you want. Place-shifting lets you watch what you want, where you want. Combine the two and your can watch what you want, when you want, where you want. Now that's what I call control! Check it out

iBiquity HD Digital Radio - The concept of digital radio wasn't new to me as I approached their booth, but by the time I left I was convinced it was something I wanted to have. As an advocate of AM talk radio, this is something I've dreamed about for years, but didn't realize that it has become a reality until I heard a demonstration. TechLore founder Steve Jones and I sat in a car equipped with iBiquity's technology, and listened to a local AM radio broadcast of classical (elevator) music. The radio picked up the AM broadcast, which was void of any life, and sounded terrible. Then, after a few seconds, the radio locked on to the digital stream, and the music came alive before our very ears. It was like he fooled us by switching to a CD recording of what was playing on the station, but there was no trickery involved. With HD radio, gone are the days of static, and for you AM fans out there, the terrible effect of signal loss when you're close to power lines. Satellite radio has already solved the quality problem, but satellite radio costs 10 to 13 bucks a month. HD radio is free, and allows me to still listen to my favorite talk hosts, local traffic, and local FM stations in a whole new way. Check it out

Sony PSP Portable Gaming System - I've seen pictures of the PSP for months in my favorite gaming magazines, but pictures just don't do it justice. It must be seen to be believed. It's sleek form factor, big screen, and gloss black color scream revolution in portable gaming. The video quality on the unit was impressive, and it handled full motion video like a champion. The PSP is already a hit in Japan, and I have no doubt that it will succeed in the US upon its release. The PSP is scheduled for launch in March. Check it out

LG Electronics Ultra Slim Series & Wide Display Series LCD Monitors - It's going to take a lot for me to get rid of my 21" CRT computer monitor, but LG made a huge step forward with some of their newest LCD computer screens. Available in standard sizes of 19 and 17 inches for 4:3, and 32, 37, 42, and 46 inches for widescreen, these high-end monitors sport an 8ms response time, which is the fastest in the industry. Gamers should rejoice as LCD takes another leap forward toward the goal of becoming the ultimate gaming monitor. Check it out

LG Electronics KV3600 3D Gaming Phone - I've played with gaming phones for years now, and admittedly usually never use the gaming features. Nokia's N-Gage is the closest I've come to finding a useful gaming phone. However, the KV3600 flip phone wins as the coolest gaming phone I've seen to date. Rather than use the traditional flip open at the top style, LG put the hinge on the side, and when open is similar to the look of Nintendo's DS, but without the bottom screen. The KV3600 was incredibly easy to use, with two D-pad style controls made playing games easy. The coolest part was the gyration motion control, that moves the character in the direction you tip the phone. Unfortunately, getting one may be an issue, since it will only be available in Korea. LG has not announced any plans to bring it to the states. Check it out

Sony s710a GSM Camera Phone - Sony Ericsson has evolved from a small contender in wireless handsets to an innovator in style and function. The s710a is fully equipped, sporting a bright LCD screen, EDGE high-speed data, Bluetooth, MP3 playback, memory stick slot, and a 1.3 mega-pixel digital camera. It's a flip phone, but not in the traditional sense. Rather than open like a clam, the s710a swings out in a circular motion and locks into place. Though it may seem annoying at first, it's only necessary to swing out the phone to access the keypad for dialing numbers, which should be rare once you enter all your contacts into its address book. The s710a should be available next month for the Cingular Wireless network. Check it out

Toshiba Gigabeat Portable MP3 Player - Watch out iPod, the gigabeat portable audio player is on its way. The new gigabeat offers MP3, WMA, and WAV support, and features a 2.2 inch QVGA color screen for viewing JPEG images. It's "Plus Touch" sensor offers quick and easy access to music and pictures, and will be available in 10GB, 20GB, 40GB, and 60GB capacities. Other nifty features include a 12-hour battery life, and recharge capability when plugged into the USB port of a PC. Check it out

palmOne Treo 650 - The Treo 650 is the latest cellphone/PDA device from palmOne. It has tons of enhancements over its predecessor, the ever famous Treo 600. It now offers a brighter and easier to see screen, video capture capability, removable battery, and built in MP3 playback. Check out Ron Repking's article about the Treo 650 for more information. Check it out

Blu-Ray Disc & HD-DVD (various manufacturers) - Late 2005 is likely to host the launch of the latest format war in the US. Though neither format took center stage at the show, you could tell each format was lining up support from various manufacturers. Both formats are slated to provide commercially produced high-definition movies, recording capability for HD television shows, and high capacity storage for the PC market. Which format will prevail is unclear, considering each format has support from major Hollywood studios. We'll have to stay tuned as this battle heats up. No links yet...

Samsung 102" Plasma Display Panel - Though this plasma may not see the light of day for many years, Samsung was obviously trying to make a statement. Their 102" plasma is the largest television ever made, surpassing Mitsubishi's Alpha 82" LCoS rear-projection TV. Though not actually available for sale, it does show that plasma sizes can be huge, which hopefully means that prices for the smaller ones will continue to drop in price. Check it out
Inside the 2005 International CES