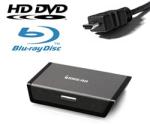 From HD cables to HD discs to HD audio, discover how to get a deeper high-definition experience.
May 11, 2007 - by Marshal Rosenthal
When building (or adapting) a home theater for high-definition viewing, it's best to start with the basics. In this case, the TV is the first thing that needs to be taken care of and, to be blunt, the bigger the screen the better. And while you may prefer plasma over rear-projection, or an LCD panel over a front projector, it's the resolution that plays the most important part because it's "locked" in and can't be changed for the life of the set. Right now 1080p is the poster child, but even 720p resolution will provide a much better picture than the standard TV sets we used to put up with.
HD Cable Options: Component and HDMI
When connecting HD devices to the display, your choices are either component cables (for up to 1080i) or HDMI cables (for up to 1080p). HDMI has an advantage because it's a single cable that also transmits audio.
But HDMI can still fail to function correctly, especially if you go with a cheap cable. "Keep in mind that as great as digital is, there can still be problems—a skinny little wire can have signal issues," says David Wiswell, group manager for product development and engineering at Panasonic Projector Systems Company. "Using digital cabling is great, especially as HDMI makes it easy for those with limited experience in wiring their TVs," he says. "Just be aware that digital doesn't 'gracefully fail,' it's more like 'falling off a cliff' where it locks up because the signal has dropped under the marginal edge."
With most displays now including HDMI, it's hard to find a compelling reason not to use it. But this gives way to an input issue because many TVs only have one or two HDMI inputs. Short of pulling/inserting plugs every time you want to switch between your HD cable box or HD player or some other device, the solution is an HDMI switcher that accepts multiple HDMI inputs and then sends the signal out to the display. But switching requires punching the correct button on the switcher or the remote every time you want to change sources, so something along the lines of Iogear's HDMI 2 x 1 Automatic Switch might be better, as it senses and automatically switches to whichever of its two inputs are active.
Tips for Surviving the HD DVD vs Blu-ray Battle
Until recently, the only way you could watch high-definition programming was to get it from a cable box, satellite receiver or an over-the-air HD antenna. Mark Jackson, president of EchoStar Technologies (parent company of satellite provider Dish Network), says high-definition bandwidth limitations presented an initial challenge for all content providers, but MPEG-4 compression, new modulation methods, and advanced hardware helped overcome these restrictions. Now, content providers can offer more high-definition programming, which helps justify a consumer's investment in HD equipment.
Consumer justification gets an added boost via the "stored HD" on two competing high-definition disc formats: HD DVD and Blu-ray. The differences between HD DVD and Blu-ray have already been covered ad nauseam, so unless you're going to wait it out, you'll have to choose between getting an HD DVD or a Blu-ray player (or a Playstation 3 if you want to combine gaming with Blu-ray viewing). Or, you could splurge and get a player for each format, though that's a costly proposition (as an alternate, LG's Super Multi Blue Player handles both type of discs—even if its HD DVD access is a bit spotty—and recently Samsung announced a dual player coming later this year).
Those who say there's really no difference between DVD and...
[[page]]
...high-def DVD should compare versions. For example, the regular DVD of "Night at the Museum" may look good, but a lot of detail is lost —like the foliage and wall carvings in the exhibition rooms—because the resolution just isn't there. Or take the CG effects: the fireballs launched by the Romans sparkle and the T-Rex's skeleton frame really stands out in the film's Blu-ray version.
As Bruce Youmans, vice president of product research and development at TDK (a founding member of the Blu-ray Disc Association Board of Directors) puts it, the DVD format was designed for playback on standard definition TVs (i.e. 480p resolution), not on today's higher resolution HD sets. "DVDs simply don't have adequate capacity to support HD video, which explains the demand for a new disc format to support HD," Youmans says.
Another high-def DVD solution is due later this year from Warner Bros. Total Hi-Def Disc (THD) takes the old flip-disc concept and spins it with HD DVD on one side of a disc and Blu-ray on the other (Warner, New Line and HBO are supporters of this format).
On the content side, consumers have the option of sampling HD discs rather than rebuilding movie collections in a new format. Both Blockbuster and Netflix offer HD DVD and Blu-ray rentals.
Don't Forget About HD Audio
Lost in this resolution shuffle is an underrated aspect of HD: audio. HD DVD and Blu-ray discs feature the new "flavors" of Dolby Digital Plus, Dolby TrueHD and DTS-HD. Craig Eggers, Dolby's senior manager for consumer electronics marketing, says Dolby Digital Plus delivers up to 7.1 discrete channels of audio at a higher quality, and even "plain vanilla" Dolby Digital now runs at a data rate higher than that found on DVDs.
Eggers says the best audio performance comes from an HDMI connection, but this requires an A/V receiver that can handle HDMI. If that's not an option, analog connections can be used. In this case the high-resolution pulse-code modulation (PCM) signal in the high-def DVD player undergoes digital-to-audio conversion inside the player and is exported to your connected A/V receiver. This process lets you take advantage of the newer high resolution audio streams.
The final choice is to use a traditional digital (optical or coaxial) output, but this method limits you to Dolby Digital or DTS audio. When using optical or coax, the high resolution PCM signal in the player is re-encoded as a 640kbps Dolby Digital signal for playback compatibility through any legacy digital home theater receiver or processor. "Listeners will still enjoy an increase in audio performance compared to standard-definition DVD playback," says Eggers.
<< Return to Page 1 | Comment on this article