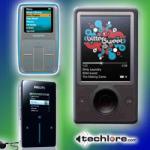 If you're tired of the hegemony of Apple's iPod and want to exercise your consumer's right to choice then the questions that really matters are: are there iPod alternatives out there and can you afford them?
The answers to these are yes and yes, and just to make the point we'll take a tour of what's out there that'll do the job better and cheaper.
Microsoft Zune

Zune is the latest MP3 player to join the fray battling for the hearts and minds of millions of consumers. Its pedigree is Microsoft, and given the length of time it has spent in development you expect it to be nothing less than cutting-edge, informed by all the latest advances in technology and with more than a passing nod to cool styling… and you'd be right!
With a large screen capable of viewing video (and a 4 hr video battery life), a 13-hr battery for songs, wireless interactivity, smooth integration into your PC, a whole lot of accessories, and the kind of functionality which only a technology giant can provide the questions has to be why did it take so long?
Zune is a vehicle to explore new sounds and experiences. With that in mind, Microsoft pre-loaded each Zune device with a variety of songs and music videos from hot, new artists as well as some fun films and images. With something for everyone, the pre-loaded Zune content may just help you discover your new favorite band.
Creative Zen Micro Photo
All the familiar features are still there, the easily replaceable battery, a standard mini USB connection, and the hold switch. There's also a choice of ten colors. But the main difference, of course, is the Zen Micro Photo's small-but-pretty, full-color OLED screen. It measures 41mm (1.6 inches) diagonally, can display 262,144 colors, and is viewable from any angle.
The innovative touch pad that made its debut on the Creative Zen Micro carries over to the Photo, though it has been slightly improved. The face of the player has a textured feel to it, lending a more tactile sensation to the controls. The layout of the touch pad remains the same, with a vertical scroll strip flanked by back, rewind, play/pause, fast-forward and menu keys. This, combined with a great user interface, makes for highly intuitive navigation. Creative recently patented the interface found on the Zen MicroPhoto. In fact, the Creative interface is used on many popular MP3 players, including the Apple iPod.
Samsung Yepp
In a case of small being beautiful as well as packing a host of features Samsung's Yepp YP-MT6Z offers a massive 1GB of internal flash memory and 42 hours of playtime powered off a single AA battery.
Within it's packet-of-gum sized body Yepp incorporates a digital FM Tuner with 20 pre-sets, inline MP3 encoding, a voice recorder and eight EQ pre-sets all of which make it more than just another upstart yapping at the iPod Micro's heels. Capable of playing MP3, WMA, ASF, Secure WMA and Ogg Vorbis music files and supporting MP3 bit rates from 8 kbps - 320 kbps this is clearly a contender.
Philip's GoGear HDD6330
With a 30GB hard drive and features such as a photo-friendly color screen, support for WMA DRM 10 subscription content, an FM radio tuner, and a voice recorder Philip's GoGear HDD6330 is the closest the company has come to producing a viable iPod rival.
Better still this is the closest a WMA-compatible player has come to rivaling iPod's sleek design presenting an intuitive, touch-screen interface and the kind of user-friendly control you have a right to expect from your mobile entertainment unit these days.
The Verdict
Compared to the iPod any of these is a viable alternative. The Pros are in the functionality which rivals and exceeds the iPod's, the ruggedness and the pricing. Zune and any of the Creative stable can give an iPod a run for its money on a like-for-like basis and will still leave enough change in your pocket to buy more than a coffee at Starbucks.
Samsung's offering proves that the iPod is far from the only viable choice when it comes to buying a music player that packs a punch, looks good and will not break the bank and when it comes to user-friendliness these alternatives come close to raising the bar.
Philip's GoGear pack the power you expect from a global company willing to field a contender that will go toe-to-toe with the iPod, matching it in practically every department except the price.
So are there any cons? Well, yes. The Cons are that none of these alternatives yet enjoy the iPods iconic status or ultra-sleek, futuristic looks, but then if that's really what you were after you wouldn't be reading this in the first place.
Discuss MP3 players in the TechLore Forums | Comment on this article