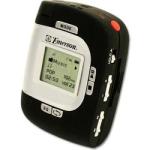 A TechLore "Ask the Experts" Question...
Question:
i purchased an emerson mp200 mp3 player. I have windows 98 se it said i needed a driver i downloaded the mp200 driver for windows 98se and below. But when i tried to install it when my mp3 was plugged in it wouldnt let me. it said this is not a valid win32 application. What do I do?
-submitted by msonj055
Answer:
It's not generally recommended to plug a USB device into a Win98 computer without installing the driver first. I would restart the computer, and try to install the driver before plugging the device in.
To verify your problem, I tried to install the MP200 driver to a Win 98SE machine, and the installation went fine. I could not recreate the invalid win32 application error. I'll take you through a step-by-step, and we'll see how it goes.
Download the MP200 software package from Emerson's website. I know you have already done this, but it would be a good idea to delete what you have, and download the program again in case there was a problem with your prior attempt.

The package is downloaded as a zipped file, which needs a program like WinZip to decompress. Extract all of the files to the same place on your hard drive.

Click on the file "setupapp.exe" and follow the prompts on-screen to install the software for your digital player.

Restart the computer

Once the computer is up again, Windows should recognize the MP3 player the next time you plug it into a USB port. You will be able to copy and paste, or transfer files just like you would from folder to folder on a hard drive.
If you have any additional comments or questions, please post them in the discussion page. The link at the bottom of this article will take you to the discussion page.
Matt Whitlock - Editor, TechLore.com