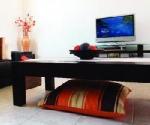 March 12, 2007 | by Gordon van Zuiden
We take a look at the audio, video and entertainment tools included in Microsoft's new operating system.
Does a Windows-based operating system belong in an entertainment room? That's been a question since Microsoft introduced its Media Center Edition of Windows XP and inspired a host of media-centric PCs. These computers were designed not just for office tasks but also for watching TV, listening to music and doing other fun things we enjoy in our living space. Now, with the introduction of the company's new Vista operating system, you may finally be able to determine whether your family room should have Windows of a different kind.
Much of the attention on Vista has been focused on its improved desktop and file management capabilities, but its real power may be in its entertainment capacities. Microsoft's Media Center Edition for the older Windows XP platforms has been rolled into Vista—and Vista builds upon Media Center's abilities with several new features.
It's far too early to judge whether Vista will break down all the barriers to using computers in our living spaces, but some of its enhancements certainly make it worth watching.
CableCARD Support
Microsoft Media Center has allowed the recording of standard-definition cable TV and broadcast (over the air) high-definition programs to a computer's hard drive—but not HDTV over cable. In Vista, you can record high-definition content from your cable provider, because it supports the high-definition CableCARDs. And with Media Center extender devices like the Xbox 360 video game platform, this high-definition entertainment can be distributed throughout the home. For instance, you can record a tennis match in high def in the family room and watch it in the master bedroom.
Instant On
Windows Vista includes a special HotStart mode that instantly starts movie, TV or music playback without requiring the full operating system to boot up. This allows you to enjoy the feature-rich benefits of a computer in the entertainment room without paying the penalty of waiting for the computer to fire up.
Side Shows
Vista's SideShow feature allows secondary displays of the computer, making it easy to view important information stored on the media center computer at any time. Initially, we'll see a SideShow LCD display on the outside of laptops, allowing immediate access to information like appointments or emails that are stored on your machine when it's closed.
But SideShow doesn't have to be limited to laptops. The technology can also be used in universal remote controls, allowing them to operate a turned-off computer and enact whole-house music sources or the front door camera. With SideShow, it is possible to program the remote to control many of the other systems in your home, such as lighting, thermostats or security keypads.
Better Guides
With Vista's Aero interface, the programming guide for your TV can be called up while you are watching your favorite show. The guide superimposes the channel and time grid on top of the TV show but doesn't monopolize the screen. Other graphical enhancements to the operating system include a more dynamic method for selecting music, TV shows and movies from an intuitive cover-art interface.
Other Features
Vista also has touchscreen support, so a computer in the kitchen can be controlled by touch instead of by a mouse and keyboard. Arrow keys are included on the interface to make navigation easy.
As we said, the jury is still out on Vista, but a robust, graphically intuitive, instantly on, quiet electronic device that allows us to watch DVDs, listen to our digital music, record HDTV shows and play back our digital pictures may change the way we use our media. There may be a place for a PC in the famly room after all.