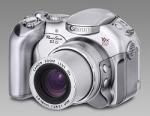 While I am not a professional photographer by any means, I like to think that I can learn to operate a moderately complex digital camera with minimal ramp-up time and get decent results. Well, if my experiences with my Canon S1 IS Digital Camera are any indication, maybe I should stick to Home Theater and home recording as my hobbies.

The camera has a number of extremely cool features, including:

10x Optical Zoom, with Optical Image Stabilization

a, while small, flip-out LCD screen

3.2 megapixel resolution

An electronic viewfinder with diopter

and as with most Canon Digital Cameras:

Of these features, the capabilities of the lens are the most underrated. The 10x optical zoom is tremendous, but can only be so useful unless you harness it with Optical Image Stabilzation. A discussion of this feature is outside the scope of this article, as well as the limit of my knowledge. Basically, it keeps the image in the lens steady for a picture that isn't blurry. Once you use it, you'll never turn it off, and will wonder how you ever got along without it.

From my experiences with the camera, I can offer this one pearl of wisdom. STAY WITHIN THE CAMERA'S PRESET SETTINGS. I have tried to manually manipulate the Aperature, Exposure, and Shutter Speed both individually and together in various situations, and have gotten extremely undesirable results. Unless you truly understand what these photographic principles accomplish and how to best use them, let the camera do the work. Its internal processing (maybe the DIGIC chip?) does not seem to have the tolerance for the amateur's tinkering.

Or maybe I just don't know what the heck I'm doing.

Otherwise, the flip-out screen make taking pictures of yourself with your friends an actual possibility, instead of a hope-to-aim-the-camera-right-and-get-the-picture-the-first-time-before-everyone-gets-annoyed-type moment. The Photostitch feature is neat, as well. You will only likely use it occassionally, but when the opportunity presents itself, you will be happy you have it.

I guess, as with anything, if you stay within what you know, you'll be okay.