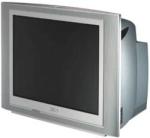 A TechLore "Ask the Experts" Question...
Question:
My magnovox tv, Model Nbr tp2770c10, went into Demo mode and I can not get it off No Buttons work. I upluged it waited a while, but it's still in that mode
What do I do?
Thanks
Answer:
Seems like a simple thing, but with virtually no support information from the Philips website, this can be tricky problem.
To disable the Demo mode, perform the following:
Turn on the TV.
Simultaneously hold down the Vol+ and Vol- buttons on the front of the TV. Do not use the remote control.
Hold for about 6 seconds
Certain model TVs may turn off, others will not. But in either case, the Demo mode should be disabled.
All should be well after these steps have been followed. Use the discussion page if you have comments or questions regarding this procedure.
NOTE: This won't work with ALL models of Magnavox TVs.