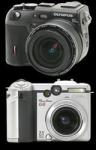 A TechLore "Ask the Experts" Question...
Question:
I'm in the market for a digital camera to be used to film my kids playing sports (baseball, soccer, gymnastics, basketball, etc.). I already own a great compact digital camera which is great for stills, but is terrible for taking action shots.
I don't necessarily want to spend a ton ($2,000), but would be willing to spend up to $1,000 or so. What are the best sports cameras out today?
My key criteria are: quick speed (focusing for the shot), good battery life (preferrably a rechargible battery), body not too big, etc., probably around 6.0).
-submitted by Texas
Answer:
Texas,
In considering the different criteria for your new digital camera, I ruled out an SLR style digital camera off the bat, mostly due to size and price. I'm not a huge fan of lugging around a huge camera either. However, if you truly want the fastest speeds, most flexibility, and the best images possible, SLR cameras are the way to go.
Based on the requirements you've put forth, I've narrowed it down to two choices:
Olympus C-8080
The Olympus C-8080 tends to meet every criterion you've put forth, while sporting extremely fast response, great battery life, price, and image quality.
The C-8080 is an 8.3 megapixel(Total) digital camera with a large 15 element lens and 5.0X optical zoom. It features a wealth of picture taking options, including many different shutter speeds and an excellent manual control system.
The drawbacks to this camera include its size. It weighs in at about 1.6 pounds with the battery, but the size is not unmanageable. It also has some limitations when adjusting the zoom by only offering 5 steps from wide to telephoto, and takes awhile from shot to shot during playback. Given all of your requirements, this would be the preferred camera.
Canon Powershot G6
If the size of the camera is crucial to your decision, the Powershot G6 should fit the bill nicely. It doesn't have quite the same speeds or shutter options as the Olympus, but it should serve your purpose.
The Powershot G6 is a 7.1 megapixel camera, which meets your requirement for quality. The G6 weighs in at about a pound with the battery, making this camera a little easier to carry around. Though the level of manual adjustment is not the same as the Olympus, it still offers a wealth of control for taking still and action shots. The G6 does offer a nifty swivel out 2.0" LCD screen, which protects the LCD screen from getting banged up when the camera is not in use. The battery life is less than the Olympus, but only by a hair.
The knocks I have against the G6 is Canon's desire to only include a USB 1.1 interface, which means that transferring photos without a high speed external card reader will be an ultra-slow process. It also slows down the continuous shot mode when the LCD is on, which doesn't help when taking multiple shots during intense action sequences.
The G6 is a little less expensive than the C-8080, which could put it in your favor, but both cameras are well below the desired $1000 cap.
Whichever camera you choose to get, we hope you share your experiences with us at TechLore.
Matt Whitlock - Editor, TechLore.com