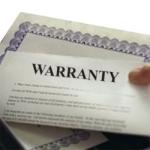 The Purchase

You're in the store, looking at all the shiny new TVs and electronic equipment, comparing, and then finally decide you want to buy the 52" DLP Projection set. On the way to the checkout, the salesman asks, "Would you like the extended warranty with this set?" Not knowing much about this you say, "Do I need it?"
The usual response would be "You should have it". Now, this is debatable. You should first ask yourself several questions:
What is the value of my purchase?
How much will this add to the cost of the TV?
How long is the manufacturer's warranty?
How long will I be covered for?
What will be covered?
What is an Extended Warranty?

In most cases, an extended warranty is nothing more then an extension of the original manufacturers warranty, and is often a repair contract offered by a retail store or a third party insurance company. These days some manufacturers have joined the extended warranty bandwagon by offering warranties for their products, and the repairs are done by authorized repair centers that cover the original factory warranty repairs. These types of warranties, in my opinion, are the best to buy if you are offered this after the time of purchase.
All extended warranties are nothing more then an insurance policy for the buyer's own peace of mind. In some instances, a replacement of the item is included with the warranty in case the cost of repair should exceed the value of the item. A few of the national retailers also offer a credit back at the end of the extended warranty, if you haven't made any claims or had any repairs done. However, I discovered that while this may sound good, it's only a credit towards another purchase in the store, and there are often time limits on the credit given.
How They Work

The extended warranty only goes into effect after the original manufacturers' warranty expires. You should always read the details carefully, as often the original warranty may cover parts longer than the labor. So, if the authorized repair shop is not part of the extended warranty's network and you take the set in because it's still under a parts warranty, they may charge you for labor. You have to be careful, and find out if the authorized factory repair shop is the same place that will
accept and handle both the extended and manufacturer's warranty before you purchase.
In reality, a five year extended warranty, on a set that has a one year manufacturer's warranty, provides four years of service protection... not five years as some think they do. That would be true for the famous extended warranties that were a big money maker on picture tube
sets. They offered a five year extended warranty on just the picture tube of a set, but the original manufacturer's picture tube warranty was at least two years (a few were three years!) So, the store actually extended the picture tube warranty for just three years, and the consumer didn't have a clue most of the time about this.
What Do They Cover

What's covered, or better yet, what's not covered during the extended warranty will vary drastically. You must always read the fine print, and if they're like most contacts I've seen, a lot of fine print.
Some policies cover unlimited house calls but if no fault or problem is found, or it's a user education issue (someone pressed the wrong button), the servicer will charge you for the service call. Some servicers don't care, as they get paid by the insurance company either way. Some will even have a deductible with every call or repair that's needed.
Some contracts will cover the light bulb in a microdisplay projection set, some don't. This type of repair could cost around $200.00 all the way up to $400.00 for a non-covered set when a tech comes out to your house for this repair. On DLP sets, some manufacturers incorporate the light wheel, fans, and light in one assembly called the "light engine". This will have a starting cost of $1000.00 to replace.
Some LCD flat panel TVs have the driver IC's mounted directly onto the rear of the display screen, and it comes as one piece where some manufacturers have separate driver boards with the IC's. As a result, replacing a bad LCD screen can run as high as the cost of a new set... if not more. Some models even use ribbon cables from the driver boards to the LCD display, but the main driver IC's are mounted onto these cables and they will pop off after a few years of service. This can cost as high as $1200.00 a cable!
Continue to page 2 >> [[page]]
The Prices

After visiting several large and small retail stores, I have found that most are a flat fee and have nothing to do with the cost of the Item.
A microdisplay projection set 42" and under ran an average of $300.00, and covered up to five years with no limitations.
Microdisplay sets above 42" averaged about $500.00.
Flat panel LCD TVs, as well as Plasma sets, started at $500.00 for 27" and below.
Larger LCD and Plasma TVs went all the way up to $1200.00, depending on the size of the set.
On a $200.00 iPod, the cost for the exchange warranty was $50.00. This is where the cost of the equipment was the guide for the cost of the extended warranty.
On audio equipment over $5000.00, like for a big home theater system, cost was a whopping $1100.00 to extend the original two-year warranty to four.
On audio equipment under $500.00 the average cost was around $150.00.
In one location it cost $10.00 to exchange the phone for two years on a $20.00 cordless phone.
Things to Remember

According to a few facts I looked up in several consumer magazines:
A rear projection tube type set has an 8% chance of needing service within a three year period.
A Micro display projection set has a 35% chance of needing service in the same time frame, due to the need to periodically replace a defective light bulb.
A flat panel set had a 16% chance of needing service in three years.
Some gold and platinum credit cards include a free extended warranty on items purchsed with the card. Visa calls their plan for the extended warranty "Warranty Manager Service". Consumers should check with their credit card companies to see if any such plan is included.
If a salesman tells you that you need this warranty or must have it, NO! It's the salesman that needs it. I found out that salespeople get to keep sometimes as much as one-third of the extended warranty's selling price. Most of these warrantees are cash cows, and myself being a tech, I wouldn't buy one; I would fix the set myself. If I were not a tech I might buy one, depending on what I bought and how much it was. On items like a microdisplay projection set, YES I would. It would cover the cost of a light bulb that could cost me as much as four hundred bucks to replace.
Bottom line: How is peace of mind worth?
Edited by Matt Whitlock